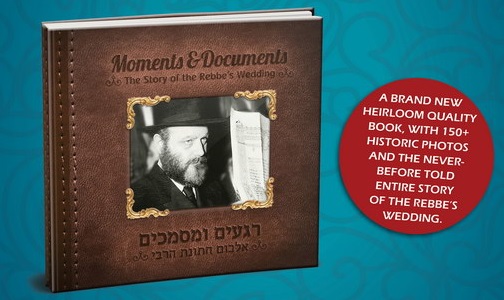 Just released in time for the Rebbe's 90th wedding anniversary is a new photo book titled "The Story of the Rebbe's Wedding".
In this brand new, heirloom quality album, printed on high quality paper with 150+ historic photos and the never before seen content, you can follow the entire story of the Rebbe's wedding.
With English and Hebrew, side-by-side, you can find answers to questions such as: Where was the first meeting of the Rebbe and the Rebbetzin? Who were the Shadchonim? Which of the Gedolei Yisroel participated in the wedding? Who were honored under the Chuppah? What gifts were given to the Rebbe and the Rebbetzin? And much more.
The album is suitable for all ages: youth, adults, grooms and brides, and especially suited for teachers who wish to prepare for the 14th of Kislev, the 90th anniversary, together with their students.
Available at all local book stores or online at amazon by Clicking Here
For larger orders, email: szhertzel@gmail.com