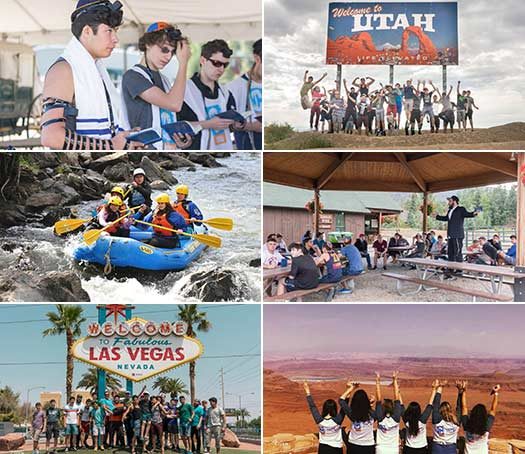 Public School Teens look Forward to the High Holidays
Daniel Leybengrub, a 10th grader at Bard Public High School in NYC,  has a new perspective with which to greet the high holidays.
"My son has become much stronger spiritually," shared Lona Leybengrub, Daniel's mother. "He talks a lot more about the Jewish customs and traditions and is looking forward to this year's high holidays. He feels the trip has made him a better person overall with new understandings about Judaism, people and the entire world."
Daniel participated in the fifth annual CTeen Xtreme travel camp. Each summer, teens travel throughout Western USA visiting scenic attractions, experiencing thrilling activities, participating in volunteer projects, and enjoying Jewish learning. The camp offers two 2-week sessions beginning in Denver, CO and ending in Los Angeles, CA. The camp has grown exponentially in the five years of its existence, and to date has offered an incredible and exciting program to over 400 teens from around the country.
The highlight of the trip for many teens, besides pushing themselves out of their comfort zones to experience new things, was having a chance to go out on a limb and try something new that they had never done before on a Jewish level, like wrapping tefillin, keeping Shabbat or praying from a siddur. The campers didn't just take home memories and souvenirs from camp: they brought back new sparks that they will continue to elevate in the year to come.
In addition to visiting breathtaking sites such as Rocky Mountain, Arches, Bryce Canyon and Zion National Parks, participants enjoyed the opportunity to give back to the community along the way. Teens volunteered at the Utah State Food Bank, Salvation Army, and Clean the World.
"It was a lot of fun. I made new friends and got to know more Jewish girls. The activities were very exciting and extraordinary, I got to experience things I wouldn't have otherwise" shared Hannah Trzasko of Wellington, FL.
Rochel Flikshtein, who led this year's girls' trip, shared "Each participant had her own story, her own journey and  her own questions in a path of self discovery. Through challenging themselves to do "extreme" activities on the trip, or through challenging the status quo and thinking outside of the box, it was incredibly rewarding to see how the teens grew over our two weeks together. I was privileged to work with an amazing staff as well who made such an impact on the whole experience!"
Some participants traveled from as far as Russia, France and Sweden to attend this year's trips. Noam Kassin-Blassberg of Gothenburg, Sweden attended the Heritage Quest trip during the summer of 2017 and was looking to participate in another trip in 2018. His mother Sarita contacted camp director Rabbi Nachman Rivkin ahead of the summer and exclaimed "My son is the only Jewish boy in his class, and perhaps even in his school. He grew up in a country that denounces religion and is anti-Israel. Noam feels alone and without friends. The opportunity for him to come and join the CTeen American trip this summer is so important! Last year's program left an everlasting impression on Noam's heart and we cannot forego another such experience!"
The travel program has succeeded in not only offering an experience of a lifetime, but also engages the families, providing the teens with an opportunity to take the lessons learned home to share with those closest to them. "I've gotten more in touch with Judaism. I learned so many new things, and feel more confident about being a Jew," shared Jasmine Paktan an 11th grader at Marina Public High School in Huntington Beach, CA. Benjamin Howard, of Jacksonville, Florida shared "I never thought of Judaism as an important aspect of my life. CTeen Xtreme helped me understand how important a Jewish lifestyle is!" Rabbi Meir Lerman who led this year's boys trip put it in simple words: "The effect this program has on the life of a teen in such a short period of time is unimaginable!"
Rabbi Mendy Kotlarsky, Vice Chairman of CTeen shared "The incredible growth and strength that the teens gained this summer will surely impact their year to come, both in CTeen and out. We cannot wait to see what the teens do with the power they gained at CTeen Xtreme."
CTeen is very grateful to Rabbi Yisroel Wilhelm of Chabad Boulder, CO, Rabbi Shea Harlig of Chabad Las Vegas as well as Rabbi Mendel Spalter of Yeshiva Ohr Elchonon in Los Angeles for hosting the camp Shabbosim.