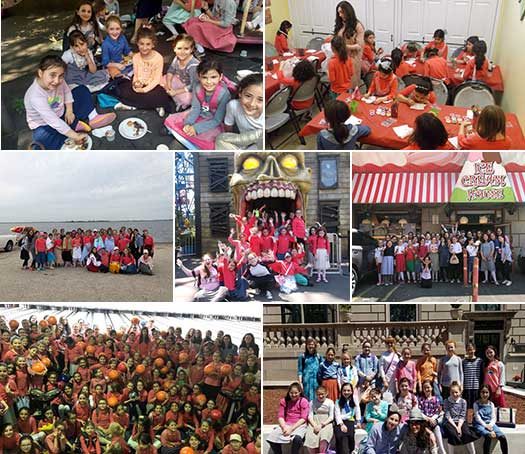 Beis Rivka Day Camp ended last week with a hop, skip, and bounce as campers jumped on huge bouncing balls, Jewish music, and live entertainment after enjoying a delicious BBQ! Each day of camp began with warm greetings from chayusdikeh counselors, was filled with a whirlwind of fun, and ended with smiles and hugs.
A few summer highlights included fruit picking, petting zoo, swimming, talent shows, arcades, ice skating, Mr. Simon Sez show, laughing at a ventriloquist show, and grand trips! With an incredible eight weeks behind us that was jam-packed with incredible trips, so much learning, and exciting activities it was difficult for everyone to say goodbye.
To end the summer on the most important note, BRDC organized a farbrengen filled with bonding and Chassidishe songs which inspired everyone to realize that Chassidim never say goodbye and that we could take the inspiration and new friends enjoyed during the summer into the school year. Campers wrote heartfelt panim to the Rebbe thanking him for an amazing summer and to give the Rebbe nachas about their personal growth.
Honorable mention and tremendous appreciation to the special people behind Bais Rivkah Day Camp who make every exciting day possible: Rabbi Benjy Stock, Mr. Tzvi Fass, Mrs. Sarale Blau, Sarah Kupfer, Mushky Lipsker, Gitty Rosenberg, Perel Friedman, Chaya Mushka Ceitlin, Shoshana Bar-Chaim, and Malka Borisute. And to our amazing HCs: Mushkie Loschak, Goldie Ohana, and Chanie Kantor.
Most importantly, sincerest and greatest thanks goes to every single dedicated counselor who made camp the remarkable success that it was and very big thanks to each Shiur teacher who made every day inspiring and meaningful with learning.