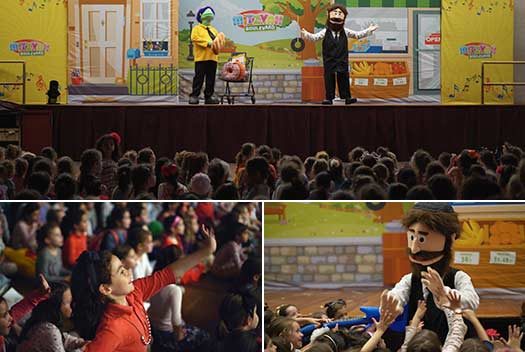 Bais Rivkah was abuzz this week as the characters of Mitzvah Blvd arrived! From the very first moment of show till the end, the campers were entertained and enthralled to see their favorite puppets come to life. With one camper even asking their counselor, "Are you sure those aren't real?"
Mitzvah Blvd Live was the perfect combination of the crowd knowing the songs, and a brand new story line that kept the kids spellbound. They screamed and cheered when their favorite Shuey came on stage, and laughter erupted when he famously confused all their names. Other mascots such as Shmelke, Eli and Bubby all made their debut throughout the show. And the kids sang, danced and clapped along with Yossi, the NEW singing Mascot.
When asked what their favorite part of the show was, some of the campers said "The Confetti!," while others loved when blow-up instruments were thrown out to the crowd. All of them agreed, they loved watching their favorite characters come to life. After the show a counselor mentioned, how it was so beautiful to see a show that is infused with Yiddishkeit and excitement.
It was the perfect exciting ending to a great summer!
For more info and to book a show, please visit mitzvahboulevardlive.com