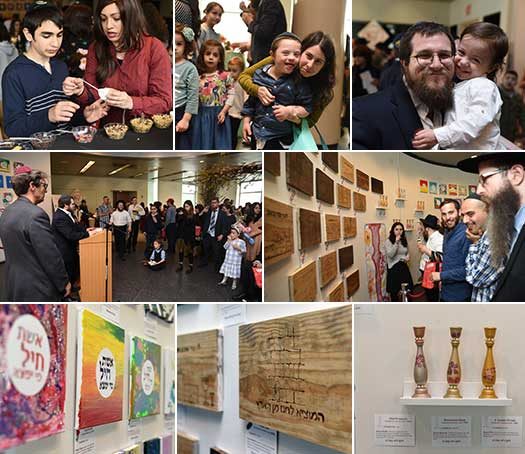 This past Sunday, the Friendship Circle of Brooklyn hosted their annual "Art of Friendship" Gallery, featuring original artwork created the members of the organization. After many months of working on these creations, hundreds of people from the community and beyond came to view the beautiful gallery.
The gallery displayed three collections covering the theme of Shabbos: Women of Valor Canvas Collection, A Day of Light Candlestick Collection, and Nourishing the Soul Challah Board Collection. Friendship Circle also unveiled their unique, limited edition Bentcher Set, featuring the various artwork of their members. Perfect for a family Shabbos meal, the Bentchers are available for sale online.
Guests were treated to custom Friendship Circle bags as they came, enjoyed the delicious spread of food, fine wines and entertainment upon entering the hall.
The visionaries behind this unique EmpowerArt program comes from the Bear Givers Foundation, true believers in putting children with special needs in the driver's seat of giving.
The joy a child feels from seeing his/her piece go from concept, to creation, to hanging on a gallery wall – which is then admired by family friends and the greater community – is priceless. This is the driving force behind the Bear Givers' mission. Their partnership in this program far exceeds that of a typical partner. Mr Joe Sprung and Mrs Diane Lempert are a short phone call away, offering advice and ideas, ensuring the success of the gallery and maximum satisfaction to our young artists.
From the creation of the pieces to the production of the final gallery wall, their partnership and commitment to this event is unparalleled.
We thank all those who came to show their support for the Friendship Circle and its members – the artists. Each of the art pieces were created under the guidance of our FC volunteers, whom we thank profusely for their genuine care and patience and for bringing out the talents in our special children, making magic happen every day.
Special thanks to Esther Begun, Mushki Tenenbaum, Ruta Cohen, Rochel Karp, and Sheina Chincholker of the FCBKLN Office for making this event the success that it was!
To purchase the Bentchers or a limited number of paintings still available, visit fcbrooklyn.com/shabbos or email hello@FCBrooklyn.com.
Photos by B. A. Van Sise