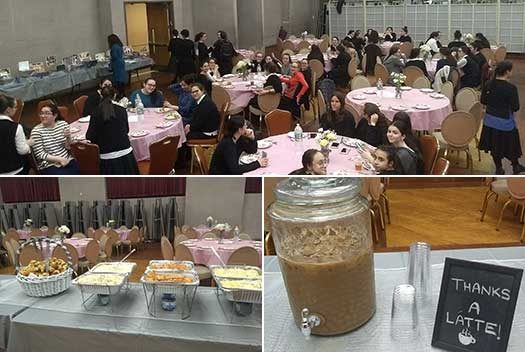 Hundreds of girls gathered in a beautifully decorated hall this past Tuesday – Rosh Chodesh Sivan. These young ladies were the Bais Rivkah volunteers of HOO, who help 110 families in Crown Heights.
In addition, they also volunteer for Bikur Cholim and Kimpatur project. The volunteers go once a week to play with children and give their mother a little break from her busy schedules.
"HOO – Helping Our Own" is a Chessed organization established by Rabbi Stock in Bais Rivka High School, designed to help families in need in our community. At the wrap up event there was an auction with prizes that were generously sponsored, a delicious buffet, and an inspiring address by Mrs. Krinsky. Girls were also recognized for doing extra hours of chessed, in addition to the amount required by school.
Mrs. Krinsky shared a moving story of how she wrote a letter to the Rebbe in honor of her Bas Mitzvah together with her twin. She described how she was disappointed that she had not written herself but had merely signed what her twin had written. However, when they received the response from the Rebbe, there were two letters! The sensitivity to give each their individual attention made her feel overjoyed and special. When we do small things to take others' feelings into account, we can make a big difference in their lives.
With that, the girls were encouraged to keep doing chessed, to keep helping the community, and keep it up in the summer wherever they may find themselves.