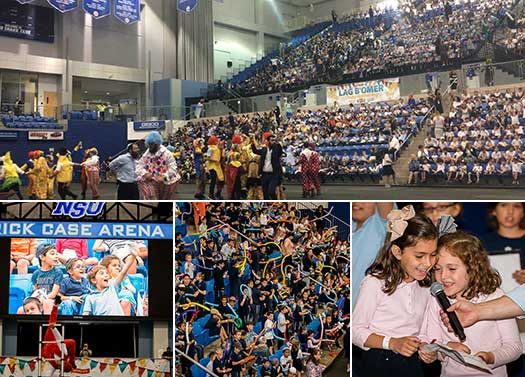 Thousands of students from schools across South Florida, from Miami to Palm Beach, came together in unity for an amazing program hosted in NOVA southeastern University in Ft. Lauderdale, FL organized by Rabbi Shmuly Gutnick of Chabad Youth Network of Florida.
The excitement began as the students entered the arena and were greeted by dancing clowns. Rabbi Shmuly G. welcomed everyone.  One class from each school represented a Torah theme and marched around the arena.  The crowd cheered, and the feeling of achdus and Jewish pride was felt by all.
Students from each school were called up to recite the twelve possukim, and all shouted together 'We want moshiach now!'
A dime to be given to tzedaka was handed out to the children. Music was played by Choni Teitelbaum, and Jewish superstar Shuki Sadon led the crowd in popular Jewish songs.
A special moment was shared, as 3 year old Shimon Reinitz celebrated his upshernish.  The crowd sang mazel tov and watched as he got his first haircut.
The students were in for a nonstop array of entertainment by the Lag B'omer Circus.  The clowns rolled in on jumbo bicycles, stilt walkers entered juggling, and the acrobats began climbing ladders in midair, doing flips, handstands, and the incredible Paul jumping through hoops.
The fun continued with the Miami extreme team dunking basketballs in a most extraordinary way; flying over volunteers somersaulting in the air and swishing the ball straight through the net.
Rabbi Yakov Garfinkle explained the significance of the day, and Rabbi Meyer Gutnick blessed the crowd with Birchas Kohanim.  Kapitol chof of Tehillim was recited for all those in need of a refuah shelaima.
The event ended on a high note.  Jewish superstar Shuki Sadon wowed the crowd with a live concert and everyone received a balloon to take home.
Being in a room with thousands of Jewish children from different cities and different schools joined together in unity is what it is all about, and in this honor may we merit the coming of Moshiach now!
Thank you to all the schools for joining in this great unity gathering. Thank you to all our volunteers for helping to make this event successful. Thank you to our sponsors for their generosity and making it all possible.
Thank you to Chabad of NOVA Rabbi and Mrs. Aryeh Scwartz
Special thanks to head shliach of Florida Rabbi Avrohom Korf, Shloimy Gutnick, Zalman Meyer-Smith from CSO Security, Schurder Family, Chonie Teitelbaum Davie police,  Jonah Wasserman, Cohen Family, Gutnick family, Akoval family, Korolitzky family, Shaller family, and to all the Bochrim from Coral Springs Mesivta, Klurman Mesivta, and the bochurim of Yeshiva Gedola Miami.
Photos by Aurit Katan Photography