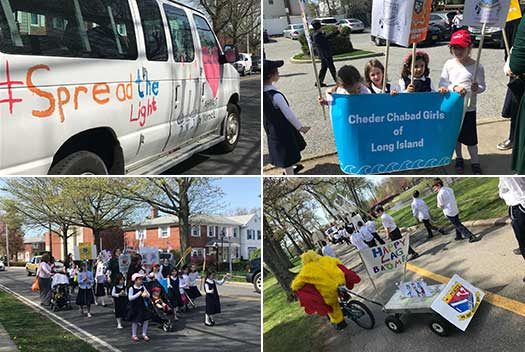 Cheder Chabad Girls of Long Island in Lynbrook joined the Cheder at the Ohel Parade on Lag BaOmer in neighboring Valley Stream.
The 4th grade enjoyed painting  and designing their float in preparation for the big day. Pre 1a made a small "marching band" with tambourines that they decorated. 1st and 2nd grade made beautiful banners to march with, each one portraying different mitzvos.  On the other side, they had posters with their Tzivos Hashem ranks on them.
The entire school enjoyed their day parading through the streets and in Valley Stream State Park, participating in the rally where each class was able to say one of the 12 posukim.
The girls then had a good time running relay races, and finished off with refreshing ices and bubbles (it was quite hot outside!) before getting on their buses back home for the afternoon.