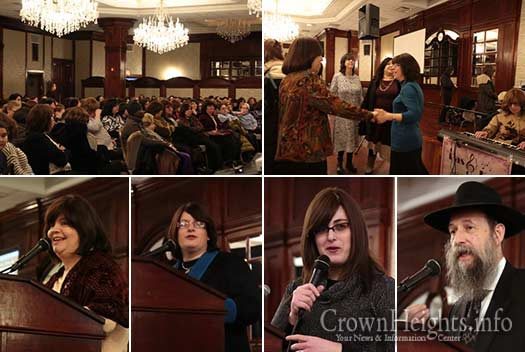 Hundreds of women and girls gathered for a Chof Beis Shvat gathering and farbrengen in honor of Chof Beis Shvat, the yohrtzeit of Rebbetzin Chaya Mushka.
The Program included guest speakers, Mrs. Raizy Mendelson from Jackson Hole, Wyoming, Rabbi Yitzchok Holtzman from Crown Heights, Mrs. Esther Vilenkin also from Crown Heights. A special musical presentation by Mrs. Leora Natochy from Queens, and Mrs Etta Mikhelson. Mrs. Chaya Leah Nunez will be the chair lady for the evening.
At the conclusion of the event a raffle was held for a coin that was given by the Rebbe and set in a beautiful setting with a necklace chain. It was won by Mrs. Milecki who wrote on her ticket "Tracht Gut" and as it happened, it was her birthday as well.
The event was organized by the Crown Heights N'shei Chabad.