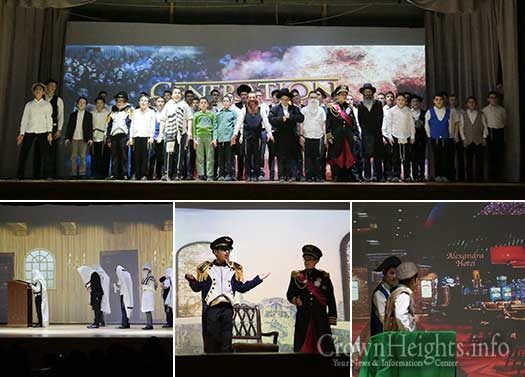 Two sellout crowds enjoyed the first ever production by a boys school in Crown Heights. Titled "Generation Seven" the performance told some of the stories contained within the Maamar of Bosi Legani.
The production stunned the audience, bringing tears, laughter and inspiration to all ages gathered. The multimedia video-projected backdrops added depth and a rich dimension to the stage.
Rabbi Simpson and Rabbi Goldstein introduced the event. The 12 Pesukim were recited by 12 of the actors. After the event, audio CDs of the performance were available for purchase. Audio CDs of the event are still available at the Yeshivah Office.
All seats in the auditorium were sold out. Not willing to miss the show, many people took standing places in the back. Due to the high demand of the fast-selling seats, an additional viewing was opened for reservation earlier in the day. Local Yeshivos reserved seats for their Talmidim at this viewing, including Oholei Torah and ULY Ocean Parkway.
The production took place in the auditorium of the New Heights Middle School on Troy and East New York Avenues.