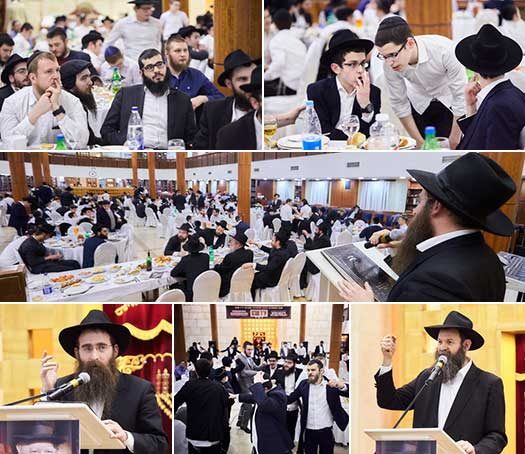 In honor of the special day of Yud Shvat, which this year commemorates sixty eight years of our Rebbe's leadership, a grand "Shabbos of Hiskashrus" took place in Moscow. It's central focus was the students of all the Tomchei Tmimim Yeshivos of Moscow, and was also attended by members of Anash, shluchim, community members and many other guests.
The Guests of Honor who flew in especially for this event were the Shliach to Connecticut, USA, Rabbi Yisroel Deren, and the Shliach to the city of Kazan, Rabbi Yitzchak Gorelik. Both of them farbrenged and gave classes in Chassidus throughout the day on Friday and Shabbos.
A special atmosphere could be felt in the main shul starting from Friday morning, when the busses started pulling up, bringing the Yeshiva students from their various locations around the city. The students then proceeded to go out in pairs on mivtzoim, taking with them tefillin and mezuzos, and even writing a pa"n klali which was then sent to the Ohel. All this was carried out very smoothly thanks to the meticulous organization of the "Talmidim Shluchim".
As Shabbos came in, the entire shul was packed. Everyone sat down to learning in groups and chavrusas based on language, level and age. The surreal scene was reminiscent of the twelve tribes walking through the Yam Suf, with the sounds of learning Torah rising and falling like the waves around them. And at the appointed time, began "Seder Niggunim", which sounded like "shiras hayam" with everyone singing in unison.
Throughout the Shabbos, there were learning classes, davening and farbrengens which lasted until Motzei Shabbos with the Chief Rabbi and Head Shliach, Rabbi Berl Lazar, the Guests of Honor, and Mashpiim farbrenging with each group.
After havdala, there was a central Melava Malka farbrengen, which was emceed by the Director of the Marina Roscha Center, Shliach Rabbi Mordechai Weisberg. The speakers included Head Shliach Rabbi Lazar, Guests of Honor Rabbi Yisroel Deren and Rabbi Yitzchak Gorelik, and representative of the Talmidei Hashluchim, Yisroel Lazar.
The incredible success of this Shabbos and its meticulous organization is credited to the thirty six Talmidim Shluchim who are in various mosdos throughout the city.
Photos by Levi Nazarov