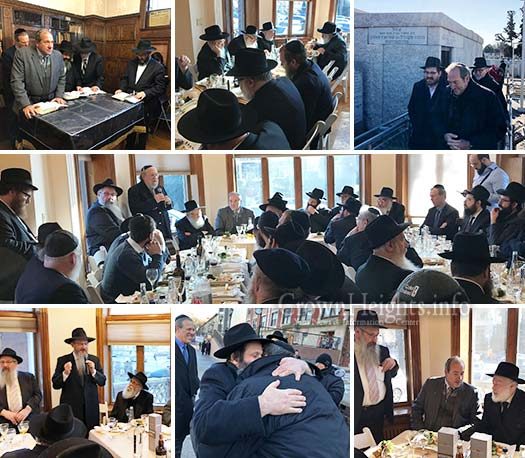 Members of the Chabad leadership, along with the Rubashkin family, gathered Tuesday for a Seudas Hoda'ah for the great miracle of the commutation of Sholom Mordechai Rubashkins prison sentence. Rabbi Yechiel Eckstein was saluted at the event for his efforts that led to this miracle.
by CrownHeights.info
Throughout the years of the unjust incarceration of Sholom Mordechai Rubashkin, the owner the of Agri Processors meatpacking plant in Postville, Iowa who was convicted of bank fraud and sentenced to twenty seven years in prison, many took part in the efforts to mount a legal defense and after his conviction to have him freed.
Leading those fundraising efforts were Rabbi Sholom Duchman, the director of Colel Chabad, R' Sholom Ber Drizin, Rabbi Lipa Brennan and Rabbis Shea and Sholom Ber Hecht who donated and raised tens of millions of dollars to help cover those efforts.
One of the people they referred to was Rabbi Yechiel Eckstein, who put in months of work and employing his connections across capitol hill and in white house. "I realized that this was not about Yechiel Eckstein, rather it was something supernatural and I merited to be the Makeh B'Patish [the closer], to bring about [Rubashkins] release," he related.
On Tuesday morning Rabbi Eckstein, accompanied by Rabbi Duchman along with Gary Apfel, the lead attorney representing Rubashkin, and a representatives of Aleph Rabbis Boyarsky and Lipskar, visited the Ohel followed by a visit to 770, then on to the home of Yossi Rubashkin where the Seudas Hodaah was held.
At the gathered Rabbi Eckstein was honored for his efforts, and he received thanks from the Rubashkin family and from the Chabad leadership.
Rabbi Yehuda Krinsky took the opportunity to publicly thank President Donald Trump, and then related how Zos Chanukah is was a very special day – that after the Rebbe suffered in 1978, the first time the Rebbe returned to farbreng was that year on Zos Chanukah.
Rabbi Yechiel Eckstein relates details of his involvement in the efforts to free Sholom Rubashkin: