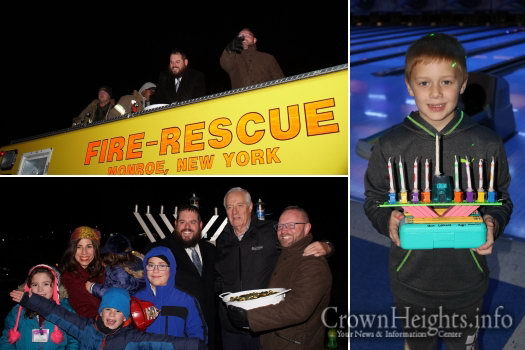 The Orange County, NY, Jewish community gathered to celebrate Chanukah together at various events hosted by Chabad of Orange County, directed by Rabbi Pesach and Chana Burston. Hundreds participated in the fun and festive events.
Firetruck Gelt Drop at Monroe Menorah Lighting
As the temperature dropped on the 1st night of Chanukah, so did the chocolate coins! After a festive Menorah lighting – lit by Monroe Mayor James Purcell and Al Muhlrad of Goshen – Rabbi Pesach Burston, along with the mayor, dropped over 3000 Chanukah Chocolate coins from a firetruck. The event also featured latkes, hot cocoa and donuts. Chabad provided toy fire hats to the children to catch the candy.
"What a special evening with all of the children from the community doing the gelt drop on the first day of Chanukah," Mayor Jim Purcell posed on his Facebook page.  "Thanks to the Monroe Fire District for helping out on such a festive evening! I want to Thank Chabad for a great night in bringing the community together on the first night of Hanukkah. Mayor Jim!"
The event was made possible thanks to Ira Kanis, Eli Ram and Janisa Brunstein, Michael Hoffman, Gil & Phyllis Goetz, and thanks to the Monroe Fire and Police departments.
The very first Firetruck Gelt Drop was invented with Rabbi Pesach and Chana Burston of Chabad of Orange County along with the Monroe Fire Department in Monroe back in Chanukah of 2014. The idea has since spread "like fire" and has been adopted by hundreds of Chabad centers!
Military Menorah in Chester
Chabad hosted its annual community event by renting out the entire Colonial Lanes in Chester on the 2nd night of Chanukah. The event brought together more than 200 people to celebrate.
This year, the highlight was the lighting of a Military Menorah, made of canteens used by soldiers.  This unique menorah was part of Chabad's "Chanukah for a Cause" to share the light with soldiers in the US and Israel, "arming our soldiers with light and love." For soldiers in Israel Defense Force, the community collectively contributed to sponsor a Chanukah party held at an IDF base in Israel, also on the 2nd night of Chanukah!  The soldiers send a photo of thanks, which was displayed at the event in Chester.  For soldiers in the United States, the community collected Chanukah goodie packages for soldiers.  Participants brought snacks, gifts and toiletries.  The packages were then sent to soldiers Robert Rosen, originally from Harriman, and Lucas Turso, originally from Goshen, and their units. Both are Chabad Hebrew School alumni now serving in the military.
The Military Menorah in Chester was lit by community member veterans of the IDF and the US.
The festive party also featured an all-you-can-eat Chinese buffet, latkes, donuts, dreidel games, bowling, Hebrew School Choir, fidget spinner dreidel making, creative menorah contest and, to top it all off, entertainment by "Modern Mentalist & Magician" Devonte.
The Chester event was made possible thanks to John Salerno of Colonial Lanes, Ira & Karen Kanis, Gil & Phyllis Goetz, Lee & Michelle Sentell, Jim Rogers, Guy & Limor Einav, MillMar Foods, Jay Mittleman of PC Payroll, Michael & Corbett Hoffman, Elizabeth Sherry and Henry & Samira Galler.
Creative Menorah Contest
Children of all ages proudly brought their artistic Menorahs to Colonial Lanes of Chester to be part of Chabad's County wide "Creative Menorah Contest."  Menorahs off all shapes, sizes and materials wowed the team of judges and all who attended the Community Chanukah Celebration.  Appointed judges were Karen Kanis of Monroe, Serach Alicia of Goshen, Janisa Brunstein of Monroe, Stacey Finkelstein of Middletown, Phyllis Goetz of Monroe and Sabina Pashkin of Highland Mills.  All contestants won Chanukah theme prizes for entering.  First place award of a Drone was awarded to Owen Leonard, age 8 of Washingtonville for his "School Supply Menorah".  Second place was awarded to Matthew Graves, age 12, of Central Valley, who was excited to win a Tablet for his "Bronze Wire" Menorah.  Zlaty Greenberg of Monroe won the third place prize of a Chanukah Musical Globe in recognition of her "Lego Scene Menorah."
Tuxedo Menorah Lighting
On the 3rd night of Chanukah, Chabad hosted a Menorah Lighting at the train station in Tuxedo.  First, a menorah lighting was held outdoors.  Deputy Town Supervisor Michele K. Lindsay lit the shamash.  "The shamash serves the other candles," Rabbi Pesach Burston said, "so we have a human shamash – a town official – to light the shamash!"   Then, a reception was help in the Community Room in the iconic train station, with latkes, doughnuts, hot cocoa crafts and a raffle.
To learn more about Chabad of Orange County's community events and programs, contact Rabbi Pesach and Chana Burston at rabbi@ChabadOrange.com, or visit www.ChabadOrange.com.