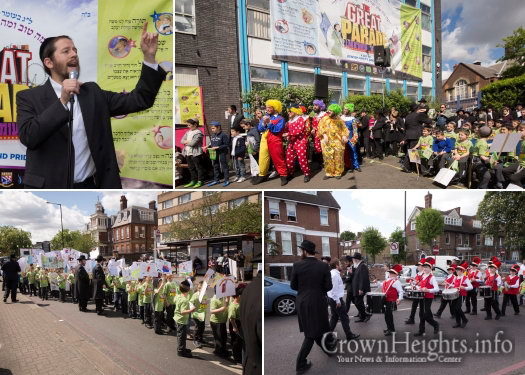 London Parade Greater Than Ever
The Great Lag Ba'omer Parade of London took place this year on the main thoroughfare of Stamford Hill, uniting Jews young and old of all stripes, with the crowd enjoying a special performance by singing star Shloime Gertner.
Over 8,000 children and their parents participated in the Great Lag B'omer Parade and Fair in Stamford Hill.
Clowns entertained the children and showed them to their seats. Shloimy Gertner started off the morning with a lively rendition of Ani Mamamin. Rabbi S.B. Sudak, organiser of the parade, opened the Parade and introduced Rabbi M. Gordon, the MC of the morning. He introduce the team of acrobats by explaining that everything in the world was created to serve Hashem.
The 12 Pesukim were recited by children of Lubavitch nursery, Gan Menachem, Lubavitch Girls and Lubavitch Boys school. The Rebbe's voice was heard in the streets of London as a Sichah was shown on a large 20 square meter screen. Mendel Sudak and Yakov Raskin invested many hours in making this happen.
The marching band, led by Nosson Negin, led the parade from Lubavitch House to the Fair in the park on the main road – which had been closed for the duration of the parade. The Fair lasted from 12:00pm to 6:00pm, at which time the heavens opened and rain poured down.
The Fair was the largest Jewish children's Fair ever seen in the area, and has been the talk of town since.
Photos by Chili Green, courtesy of JDN