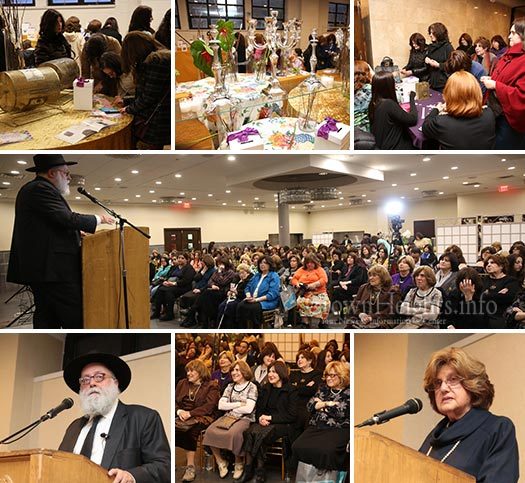 Photos by Esther Malka Levertov / Nachas Photography
Camp Fund Holds Annual Auction
The Keren Avrohom Eliezer Camp Fund – in memory of Hatomim Avremi Goldman HYD – hosted its annual auction with hundreds in attendance. the camp fund benefits children with scholarships that enables parents to send them to summer camp.
At the event Rabbi Shmuel Butman, the evenings emcee, announced that since its inception the camp fund enabled over 7,800 campers to go to camp through a budget of over $2.3 million!
Mrs. Esther Goldman took a moment to remember R' Eli Lipsker OBM, who together with his wife Leah were steadfast supporters of the auction. Mrs. Goldman also thanked the other volunteers who help put on the annual auction and assist with other fund activities.
The highlight of the evening was an address by Rabbi Simon Jacobson who told stories which emphasized the Rebbes enthusiasm for children along with the special encouragement he gave to the organization.
At the conclusion of the evening lucky winners of some 80 fabulous prizes were drawn. The event took place Sunday evening in the Lubavitcher Yeshiva Halls in Crown Heights.
Auction Winners:
Admissions Winner: E.R TELSNER
Grand Prize: ERIN VINISKY
Split The Pot: SHULAMIS NADLER
Jackpot: ESTHER PRAGER
1.Walk The Holy City: C.W
2.Rochie's Wigs: SHOLOM CHARITONOW
3.KMR Retreat: MIRIAM FEINER
4.Silver Masterpiece: MALKAH SIMON
5.Shevy Wig: ROSE MEHLMAN
6.Schottenstein Shas or Shas App & Ipad: DEVORAH KESSELMAN
7.TZFASMAN JEWLERS: DISHA SIROTA
8.EUROPEAN GETAWAY FOR TWO: MENDEL SPUTZ
9.1,800 GIFT CARD AT A&B DRIMMERS: MIRIAM FELDMAN
10.MEGILLAS ESTHER: JOSEPH SORKIN
11.CHOICE OF MACBOOK AIR OR SONY VAIO PRO 13" LAPTOP: EAGLE
12.1,000 GIFT CARD TO B&H BEST BUY OR APPLE STORE: RAIZEL RIEBER
13.1,000 TOWARDS YOUR GAS OR ELECTRIC BILL: ZAKLOKOVSKY
14.1,000 GIFT CARD TO EVERYTHING BUT THE BABY: DEVORAH PERLOW
15.1,000 COSTCO GIFT CARD: KALMAN ROTHMAN
16.FANTASTIC WOMENS SHOPPING SPREE: ROCHEL PERLOW
17.REGAL JEWLERY BY MINK JEWLERS: ARON WILSCHANSKI
18.1,000 CASH CARD: LIBBY B.
19.MIRI'S WIG CUT AND STYLE BY MALKIE ECKHAUS: ITTA GOLD
20.FAMILY ON THE GO-GO ROAD TRIP: N. BARAS
21.1,000 GIFT CERTIFICATE BY BARBER JEWELERS: DOVID HOCH
22.770 CASH CARD: MUSSIE Z.
23.MEN'S PACKAGE: KASRIEL KASTEL
24.EVERYTHING MATTRESS: SIMPSON
25.APPLE IPAD AIR 32GB: MENACHEM WINNER
26.CANNON EOS REBEL T5 DIGITAL CAMERA & 18-55MM IS II LENS KIT: CHAYA GOLDMAN
27.500 TARGET GIFT CARD: DANIELLA FRIEDMAN STONE
28.500 AT AMAZON.COM: TAMMY
29.500 AT ZAPPOS.COM: YOEL BRUMMEL
30.FLORIDA TRIP FOR 2: Z. NEWMAN
31.YALKUT ME'AM LOEZ OR OHR HATORAH: LEVI S.
32.FABULOUS SHOPPING SPREE: ROCHEL GOLDMAN
33.DIVINE DINING: LEVI B.
34.APPLE SPORTS WATCH: KOMAROVSKY
35.500 VISA GIFT CARD: ZISK
36.SMART HOME SYSTEM PACKAGE: YISROEL DUATO
37.500 TOWARD YOUR CLEANING HELP: GOLDA.S
38.THE ALTER REBBES SHULCHAN ARUCH IN ENGLISH: IZZY B.
39.STERLING SILVER BECHER: PEREL GUREVITCH
40.MIKVAH MEIR: MOSHE KONIKOV
41.ONE MONTH AT GAN YISROEL MONTREAL: LEVI BORENSTEIN
42.360 AT BED BATH & BEYOND OR IKEA: AMY ELLA
43.360 GIFT CARD AT TOYS R US: ZEV STEINMETZ
44.MITZVAH KINDER: MORDECHAI DRIZIN
45.ONE MONTH OF CAMP EMUNA SPIRIT: MIRIAM FEINER
46.BLISSFUL BAKING: MORDECHAI DRIZIN
47.IPAD MINI: S.FRIEDMAN
48.TELL ME THE STORY OF THE PARSHA: S-CALVO
49.500 OF LUXURIOUS LINEN: LEAH
50.REBBE POD:CMK
51.360 VISA CARD: LEVERTOV
52.ELEGANT CUTLERY: MUSHKA BOGO
53.PLAYSTATION 4: MENNY,TZVIKI,SHOLOM L.
54.SMART HOME ENTRY SYSTEM: MORDECHAI DRIZIN
55.THE MINI CHOSSID CUSTOMIZED JUDAICA & 4 IKIPPAHS: CHANI H.
56.PLAYMOBIL: SRULY K.
57.360 AT SEPHORA COSMETICS: YOSEF SIMPSON
58.360 AT MARKET PLACE OR EMPIRE KOSHER: D.PIEKARSKY
59.360 AT ZARA OR ANTHROPOLOGIE STORE: YISROEL LEVERTOV
60.KID TRAX KIASING-A-LONG RIDE ON TOY: CHAYA KANELSKY
61.AMERICAN GIRL DOLL OR BITTY TWINS: BATIA & YOSEF BAUMGARTEN
62.200 AT JUNEE: LEVERTOV
63.300 GIFT CERTIFICATE AT BRKLYN SPORTS SHOP: MUSSIE BARBER
64.KOL MENACHEM: LIBA SHAPIRO
65.GLIDER AND ONE YEAR SUBSCRIPTION TO N'SHEI & JOY OF KOSHER: DEVORY PERL
66.BENCRAFT: SARAH SCHREIBER
67.180 VISA GIFT CARD: RASKIN
68.TORAH TREUSURES DVD COLLECTION: YEHUDA ALTEIN
69.BIG AND LITTLE MEDRASH SAYS: SBS
70.CHAYEINU OR DVAR MALCHUS ONE YEAR SUBSCRIPTION: SHTERNI SHEMTOV
71.250 AT WELCOME HOME: M.C S
72.MAGNA TILES: DUBOV
73.TIEFENRUN COLLECTION: CHAYA HECHT
74.LIKUTEI SICHOS OR SICHOS PARSHIOS: MENACHEM HECHT
75.TIME TO READ: PAYAM KAHEN
76.BEATS SOLO HD HEADPHONES: ALESSA WIRCBERG
77.250 AT BEYOND BEDDING: ROCHEL GOLDMAN
78.YOUR CHOICE OF UBER OR LYFT: LEIBEL BAUMGARTEN
79.250 AT BINGOS GROCERIES: BATSHEVA B.
80.FIRE HD 10 TABLET & VIDEO DRONE: HADASSAH ROSEN
81.KIDS PLAY TOYS PACKAGE: SRULY K.
82.SUPRISE!: T.KATZMAN
Photos by Esther Malka Levertov / Nachas Photography