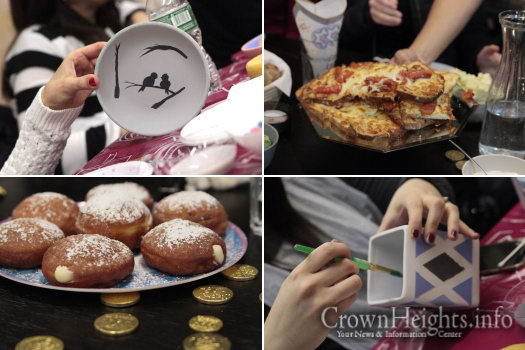 The ladies at OK Headquarters were treated to a fun day out at the annual staff Chanukah party on Monday. This year they ventured outside the office to the Aliya building on East New York Avenue for a fun and relaxing "paint your own pottery" session with The Art Café.
With quite a few great options of bowls, plates, platters and cubes, all of the ladies got to let their creative side shine. Whether simple or detailed, each person had a great time designing, planning and getting their hands dirty! Some even surprised us all with hidden artistic talents!
Following the activity, everyone moved to the other side of the facility to enjoy a delicious plated lunch, catered by OK-certified Brooklyn Artisan Bakehouse, featuring their famous homemade breads, fantastic salads, fish and heavenly hot cocoa and dairy custard filled donuts.
"Every member of our staff and their contributions are greatly appreciated by OK Headquarters and by consumers and clients around the world. It's our pleasure to show this appreciation by treating our employees to special events like these," said Rikal Fogelman, HR Manager.