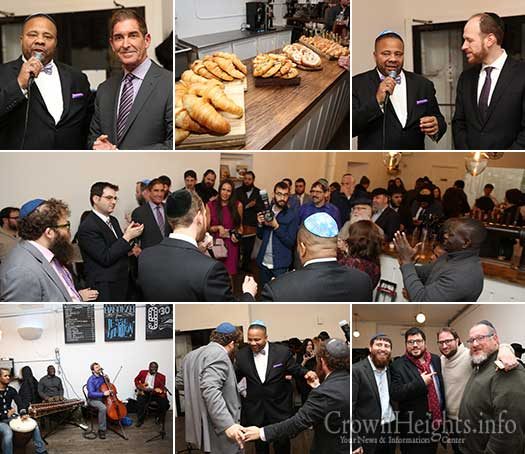 New York State Senator Jesse Hamilton hosted a pre-Chanukah celebration in the Brooklyn Artisan Bakehouse for the young professional community in Crown Heights.
Dozens of members of the Crown Heights Jewish community joined together for a pre-Chanukah celebration hosted by New York State Senator Jesse Hamilton.
Representatives of many community organizations and young activists attended alongside young professionals who mingled over Brooklyn Backhouse's signature delectable delights.
The event was opened with an invocation from Rabbi Mendy Margolin, who blessed the senator with the strength to do his job in representing his constituency and the gathered crowd with holiday greetings.
Yaacov Behrman, the event chair, introduced Senator Hamilton, who boasted of not supporting the Iran deal following a trip to Israel, "I went there and I saw a country surrounded by enemy's that want to attack it any moment and I said I cannot support a deal that would put Israel's security at risk." He also quipped about seeing pictures of the Lubavitcher Rebbe on street across the country.
The Kakande Ghanaian Band, using native instruments, graced the event with signing and tunes.
Brooklyn Borough President Eric Adams praised the crowd for their involvement with their community, "I see young members of the community taking leadership roles, getting more involved and choosing their own path" he said, adding that "other communities should take note and learn from the young of Crown Heights."
Also attending the event was State Senator Jeffrey Klein, who is the Senate Coalition Leader and Independent Democratic Conference Leader as well as New York City Councilman David Greenfield.