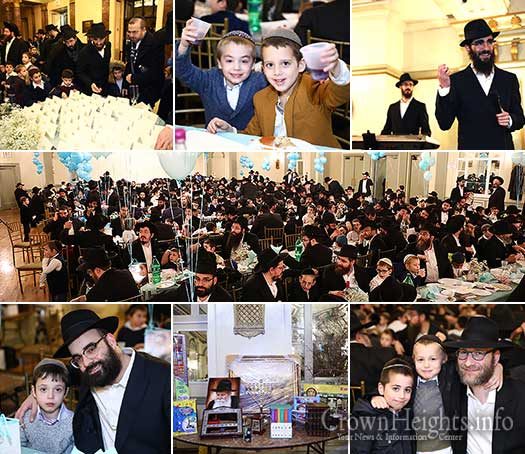 Grades Pre-1A, 1st and 2nd of Oholei Torah had their annual Melavah Malka, on Motzai Shabbos. Students together with their fathers and grandfathers packed into the ballroom for a program filled with learning, entertainment and prizes.
The Grand Ballroom was packed with 17 classes, of young talmidim, with their fathers, and zeidas, in all there were close to 1000 participants.
Beautifully decorated, the room took on a festive atmosphere as the students and fathers were greeted by the class rebbe. The Melavah Malka began with a learning session, then continued with the recitation of the 12 Psukim.
Fitche Benshimon, together with Eli Marcus entertained the event, with chassideshe nigunim as the participants enjoyed a Fleishig Seudas Melaveh Malka.
The PTA co-sponsored the event, and the entertainment. Many local stores and vendors sponsored prize that were raffled off during the evening.
The event was emceed and coordinated by Rabbi Meir Shimshoni, principal, with the help of Rabbi Moshe Pape, assistant.