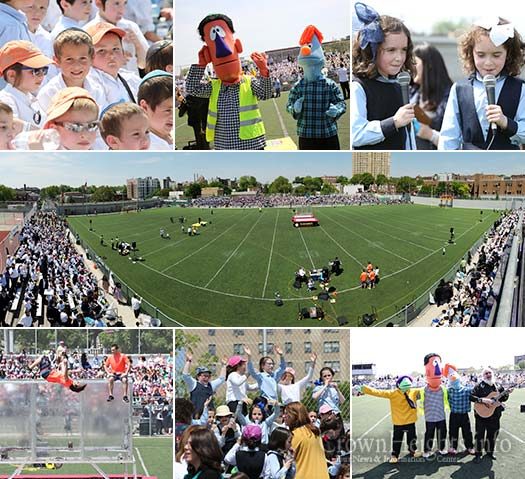 All the schools in Crown Heights celebrated Lag Baomer with a unity Hakhel gathering in the Old Boys and Girls School Field, the site which the Rebbe visited a similar gathering 25 years ago.
Some 3,000 children from all the local boys and girls schools gathered in the bleachers of the massive football field for a special and meaningful program, which featured a Sicha from the Rebbe and the 12 Pesukim.
Two special shows enthralled the children, one where charterers from Mitzvah Boulevard came alive with music by Chaim Fogelman, and a jaw dropping acrobatic show by 'Flippenout'.
"It is a venue where we were zoche to have the Rebbe visit the Lag B'Omer outings numerous times, most recently in 5751," said Rabbi Shimon Hecht, Director and emcee of the program. "We wanted a location where we can accommodate more children and adults than usual to join together in the spirit of Hakhel, but still have a location where the Rebbe joined us and we felt this would be the most appropriate and accommodating space."
During the program the children were given cold water and mezonos, as well as coins to give to charity.