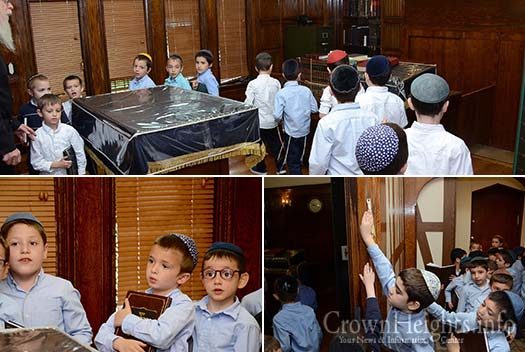 Students of the Pre-1A classes at United Lubavitcher Yeshiva in Crown Heights paid a meaningful visit to the Rebbe's room at 770 Eastern Parkway.
In the years before 27 Adar 5752, the Pre-1A Talmidim of ULY would go to the Rebbe for dollars after celebrating their Siddur Party. In the years that followed 5754 – with a Tefilah on their lips to be zoche to see the Rebbe B'einei Bosor – the Pre-1A Talmidim continued this wonderful tradition to visit the Rebbe's room to connect to the Rebbe upon reaching this milestone.
A special Yasher Koach goes to Rabbi Katzen for spearheading this initiative.
The boys were accompanied by their Rebbis, Rabbi Shmaryahu Katzen, Rabbi Moshe Schwartz, and Rabbi Levi Hurwitz