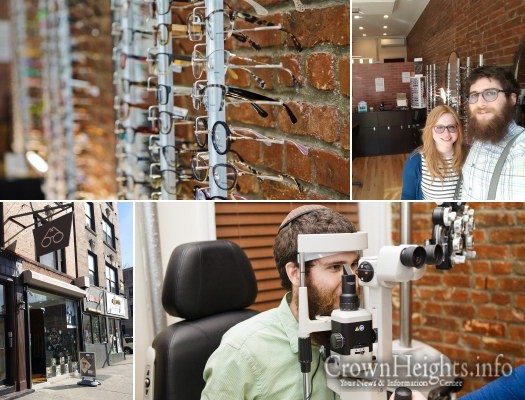 Shifra and Yaakov Astolin, a young Crown Heights couple with a degree in optometry and an entrepreneurial dream, opened their boutique glasses store in the neighborhood one year ago, with the goal of creating "a different sort of glasses shop than what is typical in this neighborhood."
by Ari Kasowitz
The View Optique is a new frame and contact lens shop in Crown Heights. Located on Nostrand Ave. and Union St., the "optical boutique" has had a successful first year. It's a modern storefront with exposed brick walls and shiny wood floors. Glasses are easy to view and feel on their well-lit racks.
Who's behind it? Meet Shifra and Yaakov Astolin, a young couple who had an entrepreneurial dream. Both are natives of Crown Heights. Both have worn glasses most of their lives.
Going to glasses shops had long become part of their routine. However, their own experiences in these stores often left much to be desired.
One day the couple had an idea. Why couldn't they start their own glasses store that sold frames and offered a full array of optometry services?
Shifra could work as the optician, since she already had a degree from NYC College of Technology and had received her optician's license in New York State. Additionally, she had a year's experience working with LensCrafters. Yaakov could study to become an optician's apprentice while managing the retail aspects of the store. He had experience working multiple full-time jobs in the past, as shipping manager, warehouse manager, and as a customer service representative for B&H, among others.
The couple agreed it was a fine idea. But as is the nature of things, that idea sat in the old mental bin where dreams collect dust. As time went on however, Yaakov was determined to – pardon the pun – see their dream as a reality. He started doing research. Starting a glasses store would require lots of work, such as obtaining permits and retail leasing, meeting qualifications from insurance companies and optometrists, not to mention the money it would take. But they were determined. They began to set the plan in motion. Shifra appealed to the Hebrew Free Loan Society, who granted them a $25,000 loan. She left her job to join her husband, who was now fully invested in the project. She researched the equipment they would need for the store and began consulting optometrists.
In the meantime, Yaakov scouted around with a friend, trying to find a location suitable for the store's needs. When they saw 803 Nostrand Avenue (the current address for the View Optique), it was nothing, just brick walls and floors in need of a good shellacking. But to Yaakov: "I knew exactly what I wanted to do with the place."
The goal was, as Shifra put it, to open "a different sort of glasses shop than what is typical in this neighborhood," something more akin to a Madison Ave. shop in Manhattan.
Yaakov went to work. For weeks, he practically lived in the store. He finished the floors and brought in new furniture. He installed studio-style lights. He mounted the glasses racks and moved in the machinery that Shifra purchased with their borrowed capital. They hired an optometrist to come to the store once a week, and Yaakov began his optician's apprenticeship.
And they were off. During the day, Yaakov would greet and assist the customers, while Shifra would take necessary measurements and teach proper lens insertion & removal. At night, Yaakov studied from the optician's manual, and Shifra quizzed him on how to determine a prescription from a lensometer, how to read a pupilometer and how to take heights.
For just over a year they've been at it, working towards the American vision of earned success. Yaakov wants to expand the list of services that the View Optique offers. They have already become well-known for their extensive variety of frame styles. Besides doing prescriptions and contact lens fittings, the View Optique is also certified to give the DMV eye exam (license renewal).
The optometrist on location is Dr. Medan, an ophthalmologist from Israel with over thirteen years of experience. Currently, he is available on Sundays for a few hours, with plans to be on location more frequently. The View Optique now accepts Emblem Health, Davis Vision, and Blue Cross Blue Shield insurances, among others.
Yaakov and Shifra are celebrating the first anniversary of the View Optique. It has been an exciting year, filled with ups as well as downs. Not all of it was smooth sailing in the beginning. But despite the stressful times, they've worked hard to build the View Optique into the success it is today.
What have they learned? "A good experience for our customers begins with us understanding what they need," says Shifra. "We know what it's like to be treated right, and we want to pass that experience on to our customers."
Yaakov & Shifra are looking forward to the next years with anticipation, hoping to continue their approach of combining quality service with positive customer experience.
For more information, visit TheViewOptique.com.