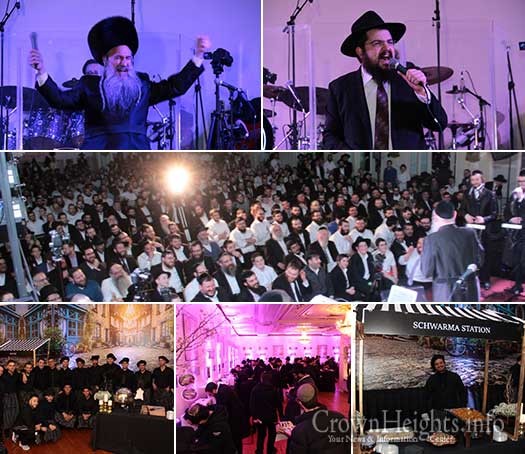 Photos by Yaakov Rosenthal
Over 1,000 Men turned out for Keren Simchas Chosson V'Kallah's annual auction event, which benefits the vital work they do in helping marry off Chassanim and Kallahs in Crown Heights. Attendees were treated to a lavish buffet and an amazing concert with Mordechai Ben David and Benny Friedman.
The evening opened with an auction viewing, giving attendees the opportunity to purchase tickets for 118 prizes that were being offered.
A lavish buffet included sushi, a meat carving station, a full service bar and desserts. The room was elegantly 'dressed up' in a French motif.
The crowd was then treated to a very lively concert headlining Mordechai Ben David and Benny Friedman. Packed end-to-end, hundreds of men gathered inside the Oholei Torah ballroom, where each performed some of their greatests hits – much to the crowd's delight, and concluding with an amazing duet.