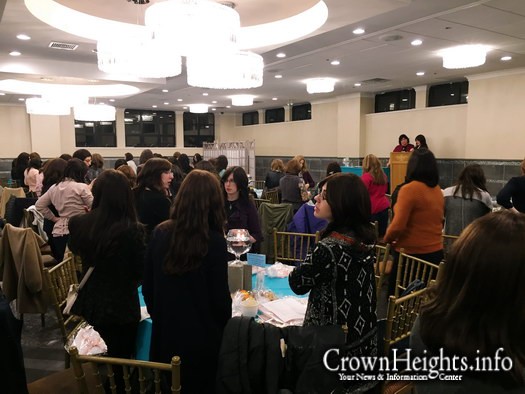 Some 100 women gathered in the large hall at Lubavitcher Yeshiva-Crown Street for an event on strengthening Sholom Bayis, along with advice based on teachings from the Lubavitcher Rebbe.
The evening featured a talk by Mrs. Bluma Rivkin, a Shlucha in Louisiana, who gave practical advice on Sholom Bayis. Mrs. Rivkin based her talk about the Rebbe's famous words, "May their home be an everlasting edifice on the foundations of Torah and Mitzvos."
She began by saying that "although I am no expert on marriage, but what I have accomplished did gives me experience enough."
She told the crowd how together with a group of friends back in her hometown of New Orleans, they began learning the sefer "Shidduchim V'Nisuin" in the merit that their children should all find their bashert and build a "binyan adei ad."
Twelve years later and all those children are married, and their mothers not only completed learning the original sefer, but "Eternal Joy" – a Sefer based on Sichos of the Rebbe relating to Shidduchim and Marriage – as well.
Mrs. Rivkin said that they accomplished an unintended goal along the way, their own relationships were strengthened, both in marriage and with family and with friends as well.
A booklet which contained the translation of a yechidus and guidance from the Rebbe Rayatz to Rebbetzin Miriam Gordon OBM, Mrs. Rivkin's mother, was distributed.
The event was organized in partnership with Mikvah.org.