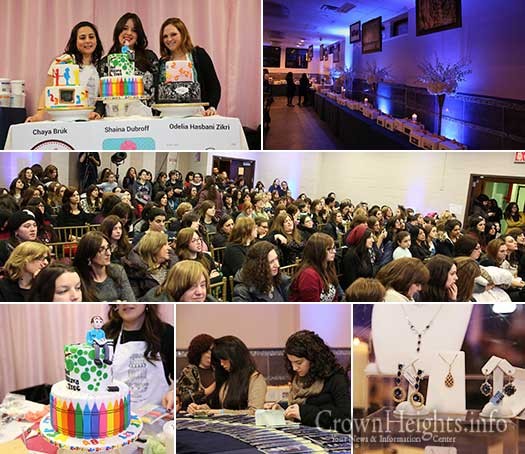 Hundreds of women turned out Sunday evening for the auction and evening of entertainment benefiting Lubavitcher Yeshiva. Following the auction viewing, which was compliment by delicious hot food, the crowd packed into the smaller hall for live cake decorating competition, titled 'Kosher Cake Boss'. A panel of judges then chose the best decorated cake.
Competing in the decoration contest were experienced bakers; Shaina Dubroff of Strauss Bakery, Chaya Bruck of Cake Creations by Chaya, and Odelia Hasbani-Zikry of Kosher Sweet Life.
They were judged by Shifra Klein of Joy of Kosher, Dini Klein of DiniDelivers.com and Chanie Appfelbaum of Busy in Brooklyn.
Auction Winners:
Jackpot Liba Levin
Split the Pot Sara Faigy Landy
Grand Prize N.Y.V.@yahoo.com
1 $5000 Gift Cert to Laine – Mendy Chein
2 $5000 Gift Cert Everything Baby – Chani Charitonov
3 4 Isreal Tickets/ Cash – Chani Charitonov
4 Binah Wig – Chani Perlstein
5 Elite Candelabra – Miriam Askin
6 Shas – Tzipora Simpson
7 KMR – Sara Best
8 $2500 Minks – Flamenbaum?
9 Table Setting – Gila Lipsker
10 Louis Vuitton – Yael
11 Bar Mitzvah Package – Avi and Rivky Keller
12 Barber – Esty Lowenbein
13 Lullaby Baby – Esty Lowenbein
14 Mendelowitz Art – Yitz Goldberg
15 $1800 AMEX – Shternie A.
16 $1800 Gift Cert Everything Baby – Jackpot (Liba Levin)
17 Laptop – Levi
18 Diva Wig – Srully P
19 Megillah – Chana Silberstein
20 Muchnik Art – Aron C.
21 Bella Wig – Shternie A.
22 Elite Washing Cup – E. Shmueli
23 Raymond Weil Watch – Rappoport
24 Canon Powershot and Printer – Nochum Labkowski
25 $1000 Gift Cert Elegant Linen – Nechama Hackner
26 $1000 Gift Cert Drimmers – Ezriel Rappoport
27 Two Domestic Flights – Dina Kupperman
28 Deluxe Twin Matresses – L. Unik
29 $1000 Gift Cert Empire Kosher – Esty Yarmush
30 Meam Loez – Chagit Neubort
31 Jewel Wig – Chanie Chanin
32 $770 AMEX – Faigy Andrusier
33 Vacuum – Chana Malachovsky
34 Zegna Kapota – Yaakov Kessler
35 Ipad Air 2 – Hulio Berger
36 Rebbe Portrait Goldstein – Elana Marinovksy
37 Hodaya Wig – Rochel Bregman
38 Meir Pliskin Photography – Chaya and Sholom Morris
39 Rabbi Goldstein CDs – Chanie Barber
40 Canon DSLR and Lesson – B.Z.T.
41 $500 Saks etc Gift Cert – Tzvi Shurpin
42 Becher Set – Rita Katz
43 JAP Wig – Aron C.
44 Dina Duchan Newborn Photo – Esty Feldman
45 $500 Toys Gift Cert – Levi Shuchat
46 Brushstrokes Lithograph – Mendy Chein
47 ipad mini – Nechama Pruss
48 $500 Gift Cert Little Peoples – Chaim Abba and Tziporah Vail
49 Rachel Fellig Shoot – N.D Simpson
50 Mimulo – Miriam Broker
51 Bosch Mixer – Leah and Boruch
52 Stay/Dine NYC – S. M. Loigman
53 Delmar Ring – Leah Lipscyz
54 Playstation – Alex and Chana Mizrachi
55 Calvin Klein Watch – Shmuel Dovid Israel
56 Kitchen Aid – Levi Israel
57 Papergoods – Rochel Kaplan
58 Grill – Leah
59 Nespresso – Kessler
60 Speaker – Ezriel Rappoport
61 Artscroll Childrens Books – Arlene Friedman
62 $300 Gift Cert Le Nappe – Menachem Andrusier
63 $275 Gift Cert to StitchIt – Shternie Raskin
64 Kosher Cookbooks – Nochum Labkowski
65 PleaseTellMe/Parsha – Ariella Cohen
66 Midrash Says – Chaim Abba and Tziporah Vail
67 Prestige – Dovid Hach
68 Dutch Oven – Malky Yomtov
69 Mitzvah Kinder – S. Mochkin
70 Lego Collection – Levi Boaz
71 TuBelle – Shani Posner
72 Mamaroo Rocker – Cutler
73 KosherFamily.com – Chaim Abba and Tziporah Vail
74 Beats – Yehoshua's Mom
75 Art Café – Yehoshua's Mom
76 Childrens – 14K Jewelry Shternie Raskin
77 ipod touch – Chana Borochov
78 $200 Target Car -d Tuvie Brafman
79 Flatwear – Nochum Labkowski
80 Primo Hat – Chaim Backman
81 Kindle – Motti Lipscyz
82 Avrohom Fried CDs – Shternie Raskin
83 LegoLand – Schmukler
84 Little Feet/Little Toes – Shterna Teichman
85 Welcome Home – Esther Goldstein
86 Teva Drugs – Chana Shlush
87 Kahans – M.G.
88 Board Games – Alexander
89 Mitzvah Boulevard – Ezriel Rappoport
90 Tallis – Mendy D.
91 Gutnick Chumashim – Levi Schanowitz
92 Amazon Card – Mussia S.
93 Magnatiles – Hotzberg
94 Playmobil – Bella Kahanov
95 Mikvah Meir – Betzalel G.
96 Mindware Maze – Elky Nathan
97 Muchnik Classics – Elka Morozow-Nathan
98 Drizzle and Whip – Levi Israel