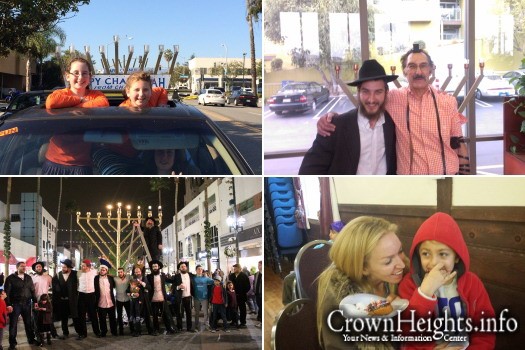 Not-Stop Chanukah Joy in 'Simcha' Monica
The only words that can adequately describe Chanukah in 'Simcha' Monica, CA, this year are "a sensational success."
This year saw an unprecedented number of Menorahs all around the city. Yisroel Y. Levitansky – director of Mitzvahs on the Spot for People on the Go – arranged for over 40 indoor Menorahs strategically placed in stores, supermarkets, banks, and hotels, as well as nearly thirty 12-16 foot menorahs placed in high traffic areas, including by the on-ramp to the I-10 Freeway. Menorahs proudly stood in many prestigious places, including SMC College and RAND Corporation (thanks to Rabbi Eli Moshe Levitansky).
All of these Menorahs were lit daily by a dedicated and hard-working crew of volunteers, including bochurim, shluchim and shluchos who spent a great deal of their time preparing, setting up, and making lightings nightly throughout the city. After all these lightings, the Bochurim went to the Third Street Promenade and Ocean Ave. to man the mobile Menorahs and make lightings for the hundreds of shoppers and tourists.
In addition, every night volunteers made sure to visit the sick and aged in 25 old-age homes and rehabilitation centers throughout Simcha Monica. During the day, there were Chanukah parties held in each of these locations.
One of the highlights was on the fifth night of Chanukah, when a "Grand Menorah Lighting and Chanukah Celebration" was held. The event included live music and dancing, Havdalah, menorah lighting, Chanukah gelt distribution, pesukim recitation, as well as plenty of mivtzoyim to the crowds of close to one thousand participants.
Of course one of the lessons of Chanukah is Chinuch. Chabad in Simcha Monica held many events for children. There were two "Chanukah Crafts Fairs" where there was live olive-oil pressing workshop as well as granite menorah making, dreidel creating and donut frying and decorating. A grand "Chanukah Funtastikah" carnival was also held.
This fun event included a myriad of booths and chanukah games, like a flip the latke contest, and hanging doughnuts, cotton candy, moon bounce and much more. A rally with the recital of the pesukim was held as well, and prizes raffled off.
In case anyone may have missed one of the many Menorahs around the city, a car Menorah parade was organized. The parade route snaked through the many parts of the city, and made an appearance on the world famous "S. Monica Pier." Many stopped to watch, honked their horns and enjoyed.
Boruch Hashem some of the Pirsum already bore fruit. Over Chanukah over 10 "Karkaftas" merited to put on tefillin. One man met a group of Bochurim who were doing lighting, agreed to put on teffilin, and took a menorah back home with him. He called to let the Chabad house know that he lit the Menorah with his children, grandchildren, and great grandchildren that very night in the Mojave Desert.
A woman from Agoura Hills was so impressed by the work being done, that she called to find out when the next lighting was so she could come and help spread the light of Chanukah.
On Friday afternoon, as some bochurim were running around right before Shabbos to light Menorahs, they met a Jew at a bank who didn't want to light menorah. Their reply "well then, you gotta put on Teffilin!" He agreed, and put on Teffilin for the first time in his life, followed by a round of applause from all the bank workers and customers.
To support these and many other on-going activities, please take part of the $10,000 raffle to benefit Chabad of S. Monica, which will take place on January 8th, by clicking here.