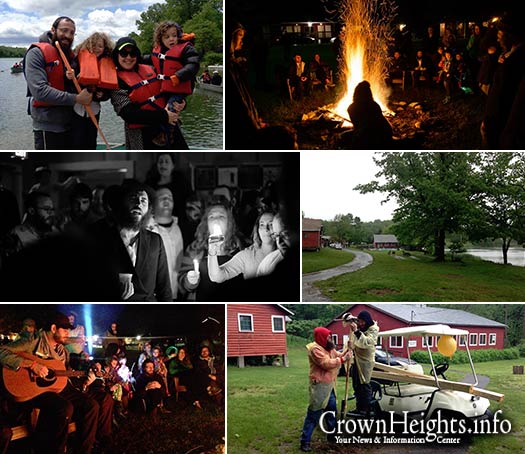 Over 200 people, including families and singles, enjoyed a special 'Shabbos in Gan Eden' Shabbaton with Chevra Ahavas Yisroel in the Berkshire Hills of upstate New York.
The Shabbaton took place on the luxurious camp grounds of Emanuel Camp in the stunning Berkshire Hills which borders with Massachusetts and Connecticut, and the inclement weather did not dampen the spirit of those attending.
Arriving early Friday, Rabbi Chezzi Denebeim got to work with some help putting up an Eruv on the portion of the grounds that they were using. As people began arriving the program got underway with kids programs and preparation for shabbos.
The group was joined by Rabbi Levi Hecht and Mrs. Olivia Schwartz who farbrengened, gave Shiurim and workshops throughout the weekend.
Once Shabbos began the group got together in the Shul for Kabolas Shabbos in the signature CAY style which was followed by an uplifting Shabbos meal and farbrengen which went on late into the night.
Shabbos day featured Shiurim, ladies mediation sessions, workshops and even more farbrengens. Shabbos concluded with another of CAY's signature Havdalah ceremonies, accompanied by guitars and drums which progressed into a bonfire and Kumzitz.
On Sunday the weather cleared up and the attendees got to enjoy the grounds many amenities including the lake, outdoor pool, tennis courts and rock climbing wall. The day also featured a 5k run for CAY and the winners were awarded medals.
"there is an unbelievable advantage to bringing people together for an entire Shabbos" said Rabbi Denebeim, "there is no hurry or rush and we can sit together and be spiritually uplifted for an entire Shabbos. It is also a wonderful community building effort."
Chezzi added that he hopes to be able to make many more such getaways, and wanted to thank the Shabboton committee for all their work, as well as Rabbi Hecht and Mrs. Schwarz for their invaluable participation, and all those who joined and made the weekend the success it was.