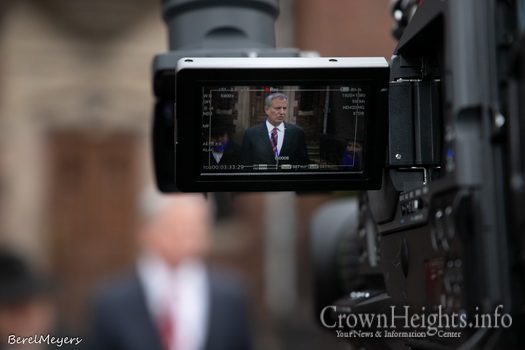 On April 27th the NY post ran a popular op-ed by Daniel G. Murphy, MD, chairman of the Department of Emergency Medicine at St. Barnabas Hospital in The Bronx. In it he called for reopening NY, pointing to the empty emergency rooms, the decrease in 911 COVID-19 calls, and the risk of patients missing other critical medical appointments.
You can read his op-ed here; it's still an important read.
The next evening, there was the funeral heard around the world. A large crowd of Hasidic Jews gathered on a couple of streets in the Williamsburg neighborhood of Brooklyn NY.
There's great debate if the crowds were just a few hundred people or as much as 2500 people in attendance. There is  also controversy surrounding if the NYPD had given tacit permission for the funeral, but what is clear is what happened next.
The police rushed in to shut it down creating havoc as people pushed into each other and ran in a frenzied manner. This was followed up by Mayor de Blasio bizarrely showing up at the scene to personally oversee the shutdown. His involvement worsened when he proceeded to tweet out his infamous 'my message to the Jewish community and all communities' tweet.
In the following days, he refused to back down from it, and unfortunately there were dozens of poor interactions with law enforcement and Hasidic communities that followed. The bad taste that those interactions caused won't go away for a long time to come.
Five weeks later, we are now in the midst of the massive protests movement launched in the aftermath of the brutal murder of George Floyd at the hands of the MPD officers. There is  disagreement within the public health community whether these protests (mass gatherings) are appropriate or not, and there's no question that already heated tensions between protesters and law enforcement are exacerbated by fears of virus spread.
There is also a lot of anger among families whose loved ones were denied respectful funerals (even outdoors) due to rigid COVID-19 regulations etc. Maybe a lot of this could have been avoided if instead of bizarrely attacking the 'Jewish community' and fueling anti Hasidic Jewish hate (that was already a terrible problem before COVID-19), the Mayor and his department of health would have used the Williamsburg funeral as a case study to learn if outdoor mass gatherings are super spreaders or not.
It would have been a perfect opportunity. Here was a neighborhood that was hard hit by COVID-19 early and it is  also a community that trusts its Rabbis and local medical professionals.
If the Mayor's office and public health officials would have done the right kind of outreach, we could have had a great opportunity at a  top notch study (by swabbing funeral goers and locals who didn't attend). A study that may have given us the answers we are now seeking blindly.
I don't want to be as bold as to write that the course of recent American history would have changed had this been done, but I am willing to write that at least some of the tensions we are seeing in the streets right now and online would have been lowered.
To summarize, it is  never a good idea to single out an entire community or religion for the acts of a few and it is a good idea to be level headed about situations and to try to see how the public benefit can be brought out from it even if the original situation was risky.