by Yaakova Babinet
By now I'm sure most are aware of the new bail reform laws that officially took effect Jan 1 2020 in NY. For those just finding out here's a short description:
Starting Jan. 1, those charged with most misdemeanors and Class E felonies will no longer face having to put up cash or bond to be released from jail while awaiting trial. New York is one of the few states to abolish bail for many crimes without also giving state judges the discretion to consider whether a person poses a threat to public safety in deciding whether to hold them.
The major reform will ensure the state isn't effectively criminalizing poverty by keeping someone in jail only because they can't afford to get out.
But district attorneys and other law-enforcement officials across the state have raised concern, noting some of the misdemeanors and felonies no longer eligible for cash bail include charges of theft, assault or aggravated harassment.
The reforms will lead to the release of at least 3,800 people currently in county jails in 2020, according to a USA TODAY Network New York survey of the state's counties.
The bail reform was conveniently tucked into NY State's massive budget bill early in 2019, meaning that no separate vote was held on one of the most controversial changes to the state's criminal justice system in years.
Here's a list of crimes one can no longer be held on bail for:
· Assault in the third degree
· Aggravated vehicular assault
· Aggravated assault upon a person less than eleven years old
· Criminally negligent homicide
· Aggravated vehicular homicide
· Manslaughter in the second degree
· Unlawful imprisonment in the first degree
· Coercion in the first degree
· Arson in the third and fourth degree
· Grand larceny in the first degree
· Criminal possession of a weapon on school grounds or criminal possession of a firearm
· Criminal possession of a controlled substance in the first and second degree
· Criminal sale of a controlled substance in the first and second degree
· Criminal sale of a controlled substance in or near school grounds
· Specified felony drug offenses involving the use of children, including the use of a child to commit a controlled substance offense and criminal sale of a controlled substance to a child
· Criminal solicitation in the first degree and criminal facilitation in the first degree
· Money laundering in support of terrorism in the third and fourth degree
· Making a terroristic threat
· Patronizing a person for prostitution in a school zone
· Promoting an obscene sexual performance by a child
· Possessing an obscene sexual performance by a child
· Promoting a sexual performance by a child
· Failure to register as a sex offender
· Obstructing governmental administration in the first and second degree
· Obstructing governmental administration by means of a self-defense spray device
· Bribery in the first degree
· Bribe giving for public office
· Bribe receiving in the first degree
· Promoting prison contraband in the first and second degree
· Resisting arrest
· Hindering prosecution
· Tampering with a juror and tampering with physical evidence
· Aggravated harassment in the first degree
· Directing a laser at an aircraft in the first degree
· Criminal possession of a weapon in the fourth degree
· Criminal sale of a firearm to a minor
· Enterprise corruption and money laundering in the first degree
· Aggravated cruelty to animals, overdriving, torturing and injuring animals
· Failure to provide proper sustenance
· Animal fighting
It's only a few days into Jan 2020 and stories like the woman who attacked 3 of our Jewish sisters on Kingston Ave only to be arrested, immediately released, arrested again after attacking someone else and then immediately released, show that there are some obvious flaws to the new bail reform law and already has NY State legislators scrambling to 'reform the bail reform' with headlines like this: "Bail Reform: NY Senate Majority Leader Ready To Consider Changes To Controversial New Laws"
ARE YOU familiar with your local district legislators who represent the majority of Jewish Crown Heights? If not, then let me introduce you to people you should know:
Senator Zellnor Myrie, Senate District 20 (SD20)
Assemblywoman Diana Richardson, Assembly District 43 (AD43)
(If you live on the outskirts of CH your legislators might be different, check who your local NY legislator is at https://nyassembly.gov/ and https://www.nysenate.gov/)
YOU are these legislator's constituents. They have local offices and you can drop in or call or email them at any time with any community concerns. Their job is to hear from their constituents.
District Senators and Assemblymembers are the ones who draft up bills that enact, amend, or repeal statutes which make up the body of state laws. Basically, these are the folks who vote on what changes are made to NY State laws and then those changes are either approved or vetoed by the Governor.
One issue Senator Myrie and Assemblywoman Richardson have been dead silent on, are what's happening in the Jewish section of the districts they represent. Ok, to be fair Myrie posted a tweet and Richardson retweeted someone else's tweet but that was the extent of their "outrage" regarding the situation in CH and around NY regarding the uptick in attacks against Jewish residents.
Senator Myrie was heavily involved with the criminal justice reform (aka bail reform law) during the budget session last year in March 2019. Here's what he had to say about his victory in seeing the reform pass:
Now that legislators are back tracking on the logic of this whole bail reform, one representative, Assemblyman Simcah Eichenstein, has proposed new legislation to help the situation, specifically regarding acts of hate crime.  His new bill would include hate crimes as qualifying offenses in which a judge can have discretion in setting bail after an arrest.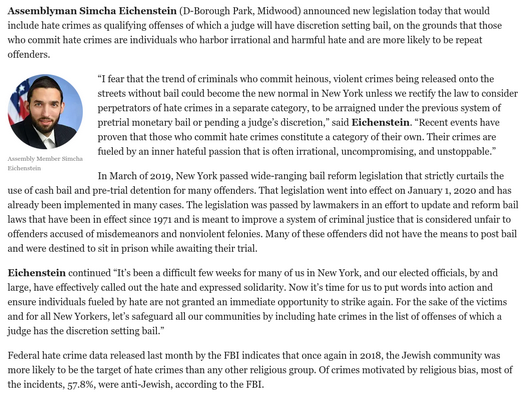 This sounds like a no-brainer for our legislators to support, right?
Well, in order for this legislation to move forward it needs support from fellow Assemblymembers as well as Senate members to propose a 'same as' bill which shows they also support such legislation. This is where YOU come in.
YOU need to contact your district Assemblyperson and district Senator and tell them you want them to support and sponsor Assemblyman Eichenstein's new legislation regarding hate crimes.
In order for Senator Myrie and Assemblywoman Richardson to give this new legislation the time of day they need to hear from YOU, THEIR CONSTITUENT. They need to hear from everyone in CH that this is smart legislation and we, their constituents, expect that they will support it for the safety of ALL people who reside in their district and all over NY.
I have already personally called their offices and they will not take this seriously unless they are BOMBARDED by constituents on this issue, that's just pretty much how they operate.
Please visit them, call them, email and snail mail them with your concern for the safety of Jewish residents in their district. Tell them a tweet about how they stand in solidarity with the Jewish people just isn't going to cut it. Ask them what concrete steps they are taking to ensure the safety of ALL their constituents.
Remember, they are YOUR elected official and have offices to hear from YOU about YOUR concerns. Let's make sure they do their job because they answer to YOU.
Senator Myrie 718-284-4700
1077 Nostrand Ave, Ground Floor, Brooklyn NY 11225
Office Hours: Mon-Fri 10am-6pm
myrie@nysenate.gov
also cc: timm@nysenate.gov , jacquet@nysenate.gov
Assemblywoman Richardson (718) 771-3105
330 Empire Blvd, Ground Floor, Brooklyn, NY 11225
Office Hours: Mon-Fri 10am-6pm
district43@nyassembly.gov
Please share this with your friends and family, we need everyone on board to make it LOUD & CLEAR to our legislators that while we appreciate they "stand with the Jewish community" what we really need is for them to take action in protecting the Jewish communities they represent, as well as all NYers, from those who perpetrate hate crimes.