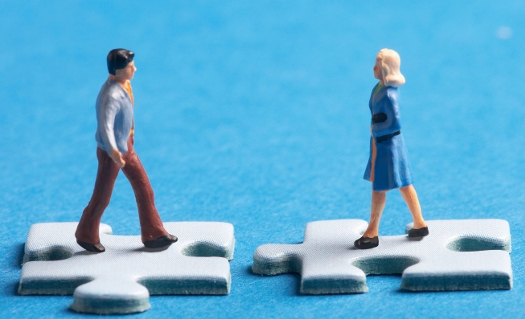 A young single on the 'Shidduch Market' bemoans the seeming difficulty of Shadchanim and parents to accept it when a young Bochur or girl rejects a suggestion, or take it seriously when they express their preferences.
by Anonymous 
Dear Shadchanim and Parents:
Firstly, thank you for all you've done to help make thousands upon thousands of Shidduchim happen. Your work does not go unnoticed and ultimately it will all be worth it!
Readers: If you are here to criticize, there are far better places to do that than here. But if you are here to help the many singles who are more than eager to be married, and if you respect people more than your anxiousness to post that sharp-savvy-often-discourteous-comment (we all have one) then I implore you: Just listen!
I preface by saying that this is not designed to be a comprehensive solution to our current situation. I simply wish to emphasize a single issue (pun intended) on behalf of myself, and from what I understand, on behalf of bochurim and bochurettes everywhere.
The truth is, most of us know ourselves better than anyone else does.
We know our strengths, our challenges, our values and deepest vulnerabilities. We are more than desperate to be married, yet we want it to the right one. We wouldn't consider ourselves picky, nor do we think that we are unsure of what we are looking for.
When we say no to a perspective match, especially if we have gone out already, we have probably mulled it over or slept on it more times than you can imagine.
We've considered being a year older and still single. We've pondered how we might feel about all this in two weeks' time, and yes, we have probably already spoken to our Mashpia, our parents and a number of close friends.
Saying no is often just as hard as getting a no in return (and in many cases it may be harder since the responsibility is our own). So please don't patronize or judge us for being true to ourselves and doing what we think and feel is right – no matter how painful.
We don't think that what we are looking for in a Shiduch is far-fetched. We don't think it's unreasonable and the only reason why we remain skeptical is because whenever we are asked what we are looking for, the suggestions that follow are simply not reflective of those preferences. So what are we supposed to think? (Not to mention, that in the often critical environment we live in, some of us are even embarrassed or afraid to say what we truly want out of fear of being ridiculed with "You want that?!")
Sure it's understandable that certain factors are subjective. But many are not. I won't talk specifics since we're all too familiar. It's simply annoying when a Shadchan asks you to tell them "the top 3 things you're looking for in a spouse" and the comes back with a series of suggestions that don't match, and is possibly even offended by our disinterest.
As a side note, if someone says they are or aren't looking for a specific feature, while this means  nothing from the perspective of one's true Bashert, at the same time, it has been said that this is a subconscious way the Neshama meanders and filters through the many possibilities it is faced with.
Having someone say they don't want to marry a redhead and then – lo and behold! – they marry a redhead, is in my humble opinion the greatest form of Hashgacha Protis! It's as if the subconscious is saying, "I don't want ANY redhead but THIS ONE!" How peculiar, and yet – how awesome!
So we thank you for all you've done. And we wish you would just hang in there and help us get over the last few steps before the finish line.
All that we ask is that you listen to us. Just listen.