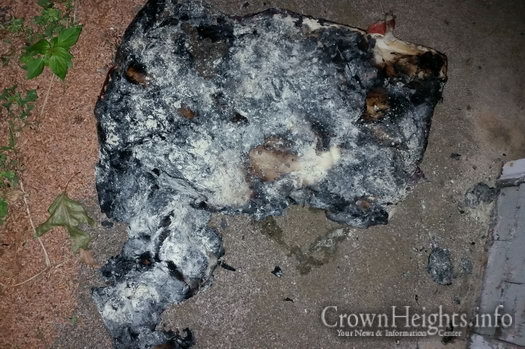 A CrownHeighs.info reader sent us the following letter, warning their fellow community members to exercise extreme caution after their home was nearly burned down by a Shabbos hotplate that caught fire:
by Anonymous
On yom tov, we use hot plates in the kitchen to heat the food.  (On Shabbos, my wife wraps food in towels and places it in the hot oven, turned off, to keep the food hot.  We eat the meal of Shabbos day in shul at the Kiddush, and do not need hot food Shabbos afternoon at home.)
Last summer, a friend brought us an artistic cover from Israel that is used to cover the food on the hot plate.  It is like a blanket.  On Shavuos night, sitting at the dining room table, we smelled something burning.  Running to the kitchen, my wife noticed that the hot plate cover was smoldering, having caught fire from the surface of the hot plate.
We quickly carried the blanket outside to the porch, and opened the windows to air out the kitchen.  Fortunately, we caught it before there was much smoke in the kitchen.  With the immediate urgency gone, I fetched our fire extinguisher from the closet, and sprayed the hot plate cover.  Knowing that it is difficult to fully extinguish this material, we waited, and sure enough, the fire flared up.
With the fire extinguisher now empty, I called the fire department, and asked them to come.  I explained that we were safe, and the burning object was outside, but I could not fully extinguish the flame.  (I had another objective: I wanted to impress on my children the importance of not hesitating to call emergency services on Yom Tov when there is even a small chance of danger.  This is not a halachic ruling, and I recommend that people check with their rov for guidelines on the appropriate procedure.)
The police arrived first, and the policeman used my garden hose (duh!) to spray the cover for several minutes until he was sure the fire was out.  (As far as Yom Tov, it was better for him to put out the fire than one of us.)  One fireman came with a truck who made sure that everything was under control and then walked through the house to check that the level of smoke was safe.
I have never used the fire extinguisher before, but I am sure glad I had bought one many years ago.  We also have smoke alarms hooked up through our burglar alarm, and I added a horn near the bedrooms a few years ago.  If the alarm goes off, the alarm company will try our house phone first, then call a list of numbers we provided them, if we are not home.
We are most grateful to Hashem that we are safe.
I am sharing this so people know that if they use a cover for their hot plate, it may not be safe.  Please review your kitchen procedures for weekdays, Shabbos, and Yom Tov, to make sure everything is done safely.  If you are not sure, you can call your fire department and ask.  They may even offer to stop at your house to check your arrangements firsthand.
Test your smoke alarms and carbon monoxide alarms every rosh Chodesh.  If you work at a school, please do your part to ensure that the alarms in the buildings are tested frequently.  (Who is responsible for the smoke alarms in the dorms?)
It is important to be prepared for emergencies, because you never know when something might happen.  And if something does happen, it is easy to panic and not think straight.  It is impossible to eliminate or to prepare for every situation.  But the better you plan, and the more systems you have in place, the better your chances are of getting through the event safely.