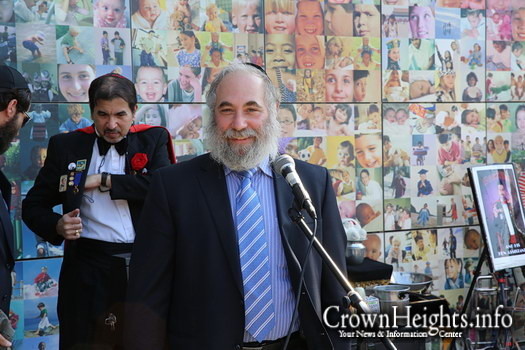 In an open letter addressed to the Crown Heights Jewish Community, New York Assembly candidate Mendy Raitport explains why he believes he deserves the community's vote in tomorrow's election:
Dear Friends and Members of the Community,
We have been afforded a unique opportunity and we must take advantage of it so that we can create a better future for ourselves and our children.
Our community and our country are in dire straights.  Strangers are attempting to expel us from our homes, just so they can make themselves a little richer.  Others are attempting to divide our community with hateful language that creates a racial issue that simply does not exist.  The government is asking for more and more money from us, while they help us less and less.  The state of our educational system is deplorable.
What is worse: No one is listening to us.  Our community has been overlooked in the New York State Assembly.  I promise to change that.
I have lived in this community my entire life.  I have been a small business owner for many years.  I have sent all eight of my children to Yeshiva school ka"h in this community.  I have been a Shomrim volunteer for many years.  I know and love my community.  And I want to help you, by being a voice for the Lubavitch and Crown Heights community in Albany.
Crown Heights needs jobs, and I plan to bring thousands of them to the 43rd Assembly district by lowering job-killing regulations and taxes that are suffocating the small businesses our community thrives on.  Specifically, I want to work with the trade unions to open up the licensing quotas to higher levels and bring on-the-job training for trades such as plumbing and electrical work.
Education has been a major part of my platform in my run for the assembly because I believe there is a lack of leadership on the issue in central Brooklyn and throughout New York City.  Our community has struggled too long to educate our children with absolutely no assistance from the government, and yet the government continues to raise our taxes.  I will go to Albany to be the loudest voice for school vouchers and the education tax credit.
Housing and affordability are major issues in the 43rd Assembly District.  Like everyone else, I want to ensure that any future housing built is affordable to those who work hard for a living.  But the solution to unaffordability is home ownership, better paying jobs, and a robust economy that our children can participate in.  That is what separates me from my opponents.  I want to make sure that we can afford to live in our community, that we built, and raised our children in, and take care of.
Right now, it is our time to step forward and become leaders in New York State.  You have heard a lot of arguments, from the candidates themselves, and their surrogates, but I can tell you, from the bottom of my heart, that while I am not a professional politician, I will work the hardest to be a representative that you can be proud of and an assemblyman that will listen to you and deliver.
So, please, on Tuesday, May 5th, cast your vote for me, Menachem Raitport, a proud son of Crown Heights.
Humbly yours,
Menachem Raitport
The above article is a paid advertisement from the Raitport for Assembly campaign.