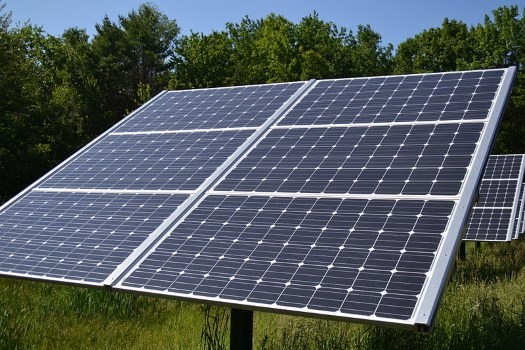 Illustration photo
The NYC Department of Citywide Administrative Services (DCAS) and the New York Power Authority (NYPA) today announced the selection of two firms to install rooftop solar arrays on nearly 50 public schools across the five boroughs, the Wards Island Wastewater Resource Recovery Facility in Manhattan, and three other water treatment facilities in Westchester, Delaware, and Ulster counties. The solar arrays will generate as much as 22 megawatts of solar power, enough to power 5,600 NYC residences, and reduce nearly 7,000 metric tons of CO2 equivalent each year, which equates to removing more than 1,500 cars from city streets. Several of these facilities are expected to include energy storage systems that will store energy for use during periods of peak electricity demand. During peak demand, prices increase and dirtier energy sources are activated to meet the additional demand. Ameresco, a Framingham, Mass. headquartered clean technology integrator, and ENGIE North America with national headquarters in Houston, have been selected as the project developers.
"Our schools are not only tackling climate change in the classroom, but also on the rooftop," said Lisette Camilo, Commissioner of the NYC Department of Citywide Administrative Services. "New solar installations on schools and other public facilities will generate green energy that will help achieve Mayor de Blasio's goal of reducing citywide emissions 80% by 2050."
The solar installations are currently planned for 47 NYC Department of Education (DOE) buildings spanning all five boroughs. Carbon emissions from public schools account for nearly one-third of emissions from the City's building portfolio. Adding solar to schools provides carbon emissions reduction potential as well as opportunities for students to learn about the importance of sustainability and climate action. This project will incorporate a new clean power source into the school district's infrastructure and allow the City to purchase power generated on-site as opposed to purchasing power from a utility company that may not use a renewable source.
At the Department of Environmental Protection's (DEP) Wards Island facility, a combination of ground-mounted, carport, rooftop and elevated canopy solar PV systems will be installed throughout the eight-facility complex, totaling over seven megawatts of solar PV capacity. Solar power generated will serve the loads of the plant, and a battery energy storage system will reduce peak energy demand. An additional 1.5 megawatts of capacity is expected to be installed at three City-owned facilities in the watershed, including the Catskill-Delaware Ultraviolet Light Disinfection Facility in Valhalla.
ENGIE will design, construct, own and operate the solar PV systems at the DOE sites while Ameresco will perform the same tasks at Wards Island and the other DEP sites. NYPA, acting as the clean energy advisor, will manage the projects to ensure they progress on budget and on time. The developers were selected through a competitive bidding process announced last June.
The City and NYPA conducted site assessments to identify the most feasible and appropriate locations to install solar PV systems to help the City achieve its renewable energy goals. Selected locations, amounting to nearly 70% of the total capacity, also support the State and City's efforts to advance environmental justice as many of the sites are in areas with poorer air quality and lower median incomes. The project sites are anticipated to be interconnected behind the meter to buildings' electrical systems.