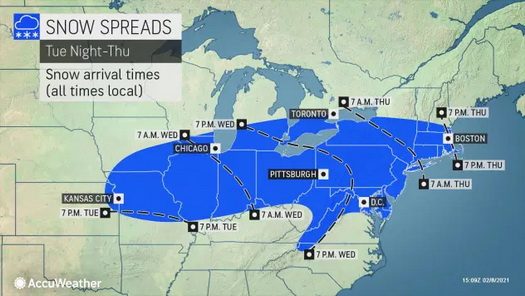 New York City and areas of northern New Jersey became an epicenter for heavy snowfall in February, and that pattern doesn't appear like it will break any time soon as the displaced polar vortex will keep sending bitterly cold Arctic air southward across the United States. A stormy corridor will set up across the Midwest and Northeast this week and beyond, creating more opportunities for snow from Chicago to the Big Apple, forecasters warn.
"The story is we've got a busy weather pattern," AccuWeather Chief Broadcast Meteorologist Bernie Rayno said.
"Never, ever, ever trust a split flow," Rayno said, pointing to a strong northern jet stream and a weaker southern jet stream on the weather map. A system later this week will develop into a long-duration event and may involve multiple storms that affect the Midwest and Northeast.
"Our storm systems are not going to be strong," he explained, but he added that they will be able to tap into a major temperature contrast setup across the country in order to produce heavy precipitation.
Read More at Accuweather