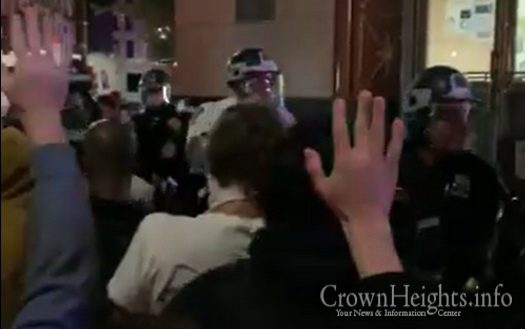 Thousands of people have taken to the streets of New York City since Saturday protesting the death of a Minneapolis man in the hands of the police. CrownHeights.info will be posting basic updates and critical information regarding the protest and any threats to the Crown Heights Jewish community.
These updates do not count for any smaller splinter groups, or people who decide to do criminal acts on their own. Please continue to take extreme caution and maintain heightened awareness.
(The NYPD has done a great job tonight and there are few groups roaming the city, and near zero looting going on. I will be signing off now for the night. Stay safe everyone!)
Update 11:24pm: Group is now on Kingston Ave crossing Atlantic Ave northbound.
Update 11:13pm: 4 under arrest at Bergen St and New York Ave.
Update 11:07pm: Officers calling for additional at Bergen Street and New York.
Update 10:51pm: Group turned north on Eastern Parkway.
Update 10:49pm: Another group of protesters on Eastern Parkway heading towards Crown Heights from Bedford Ave.
Update 10:37pm: The group on Eastern Parkway turned up towards Atlantic before reaching Crown Heights.
Update 10:36pm: 45th and 3rd, over 40 under arrest.
Update 10:33pm: Brooklyn Bridge open to traffic at this time.
Update 10:32pm: 5th and 43, 94 under arrest.
Update 10:23pm: Group on Eastern Parkway has reached Bedford Ave, accompanied with a large group of police.
Update 10:18pm: A group of 150 turned from Washington Ave onto Eastern Parkway heading towards the Crown Heights area.
Update 10:17pm: For the first night since the beginning of the riots, mounted officers are patrolling the streets of the city in force.
Update 10:14pm: Police opening up the Manhattan Bridge in both directions. The Brooklyn Bridge is still closed at this time.
Update 10:02pm: 8th ave and 32nd street, 4 under.
Update 9:50pm: One under arrest for hitting the Traffic Agent.
Update 9:46pm: W96th and Columbus Traffic agent hit by a vehicle.
Update 9:37pm: Advising 4 stolen radios causing havoc for communications.
Update 9:36pm: Cadman Plaza, another injured Officer.
Update 9:29pm: 900 3rd ave holding 31 under arrest.
Update 9:27pm: E52th and 3rd, 9 under arrest.
Update 9:21pm: 40 under arrest 54th and 3rd, around 40 under arrest.
Update 9:18pm: Cadman Plaza and Peirpoint, Officer with "broken leg."
Update 9:17pm: 1300 protesters heading towards the Barclay Center.
Update 9:12pm: 9 under arrest on 53rd Street in Manhattan.
Update 9:09pm: 40 under arrest at one location in Manhattan.
Update 9:05pm: Injured Officer in Brooklyn unconfirmed.
Update 9:01pm: Additional officers requested to E50th and 3rd in Manhattan.
Update 9:00pm: at this time, there are large groups of protesters in lower Manhattan and Downtown Brooklyn