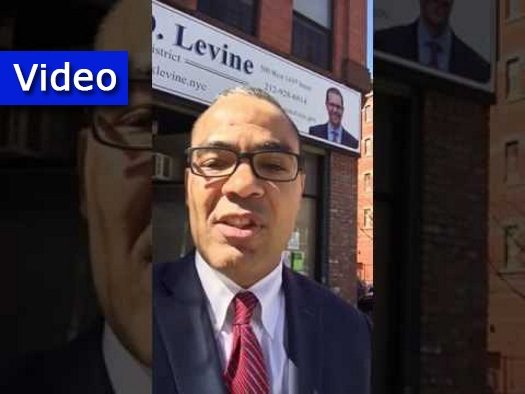 New York City Council candidate Thomas Lopez-Pierre, who blamed "greedy Jewish landlords" for the "ethnic cleansing" of black and Latino residents from Harlem, was soundly defeated in a Democratic primary vote.
In one of the most lopsided margins of any race in the City, Council Member Mark Levine of Manhattan's 7th District won a resounding victory last night against an opponent who ran on a platform of blatant bigotry and anti-Semitism. With 98.5% of the vote counted, Levine holds a margin of 74.7% with overwhelming majorities in every corner of the district, from Park West Village to Grant Houses to South Washington heights.
Levine's opponent, Thomas Lopez-Pierre ran a campaign based solely on the demonization of Jewish New Yorkers, using rhetoric consistent with the values of the neo-nazis who marched on Charlottesville just a few weeks ago.
Said Council Member Levine, "At a time when decent people of all backgrounds need to denounce the hatred coming from the Alt-right in Charlottesville and beyond, I am elated that my neighbors in the 7th Council District chose our positive vision of unity over a message of division and intolerance. Despite spending nearly $100,000 in campaign finance matching funds, my opponent's vitriolic propaganda was unequivocally rejected by the Upper Manhattan community last night. I look forward to serving this amazing community for another four years, and I am eager to continue working to make our City a more fair and prosperous place for every New Yorker."