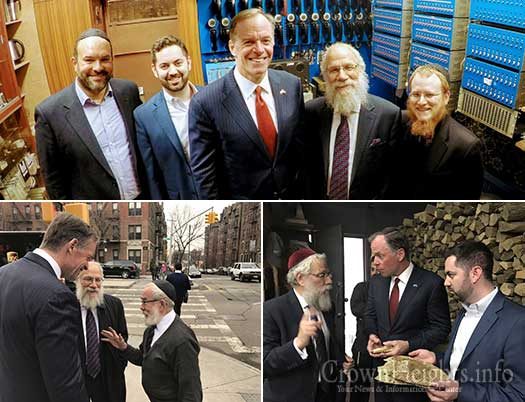 New York City mayoral hopeful Paul Massey visited Crown Heights on Monday, touring the local Matzah Bakery, walking along the neighborhood's main shopping corridor and stopping in 770 – the Lubavitch World Headquarters.
Accompanied him on his tour of the bakery was Rabbi Shea Hecht, who continued with the group along their tour of the neighborhood.
Rabbi Hecht said that during the visit they had discussed a number of issued affecting the Jewish community, including affordable housing, school tuition and safety. "We spoke about the 'bad times' during the Dinkins administration and before, then the significant improvements brought along by the Giuliani times, and how now it seems to be slipping back once again," he said.
Mr. Massey was really impressed with the neighborhood and its vibrancy. "During our walk he said that there is no question that there is a certain energy that you find in Crown Heights that you don't find elsewhere," said Hecht.
Following his trip to the Matzah bakery, he visiting the main Shul downstairs in 770, then took a tour of the 'broadcast room' from where the Rebbe's farbrengens were broadcast around the world.
Massey, who has no background in politics, is a millionaire with a background in real estate who is running on the Republican and Independent lines. His platforms include challenging current mayor Bill De Blasio on a large number of policy issues, including attacks on the mayor as corrupt.
In the last six months, Massey has lead his running mates in campaign fundraising, raising some $1.6 million while loaning his campaign much of his personal capital.