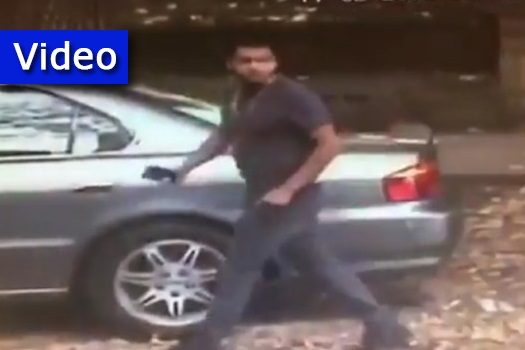 by Sandy Eller – VIN News
The NYPD's Counterterrorism Unit has been called in to a Jewish girls' high school in Brooklyn after an unidentified man was spotted taking pictures of the building's exterior this morning.
Surveillance cameras at Bais Yaakov D'Rav Meir on Parkville Avenue in Kensington captured footage of a man who took photographs of the building's exterior from several different angles before getting into a dark colored vehicle that was parked directly in front of the school and driving away.
The man was wearing blue jeans, a blue t-shirt, dark shoes, a chest-length necklace and a black belt and NYPD sources said that the suspect appeared to be either of Middle Eastern or Hispanic origins.
An official at Bais Yaakov D'Rav Meir who would not discuss the incident unless granted anonymity said that the school noticed the suspicious activity as it was unfolding and notified police immediately.  The school is located just a block and a half away from the 70th Precinct.
Councilman Chaim Deutsch reported that he had received numerous phone calls from concerned parents who live in his district whose daughters are students at Bais Yaakov D'Rav Meir.  Deutsch said that he had spoken with Deputy Inspector James Palumbo, commanding officer of the 70th Precinct, who said that the suspect's car may have been a Volkswagen Jetta, possibly with New Jersey license plates.
Assemblyman Dov Hikind expressed concern about the incident and said that the NYPD is taking the matter very seriously.
"There is no question that there are people out there who hate Americans and Jews," Hikind told VIN News. "It may turn out to be nothing in the end but it right now it looks awfully suspicious."
Both Deutsch and Hikind stressed the importance of vigilance at all times.
"If you see anything that looks suspicious call 911 as well as the NYPD's counterterrorism hotline 1-888-NYC-SAFE (692-7233)," said Deutsch.