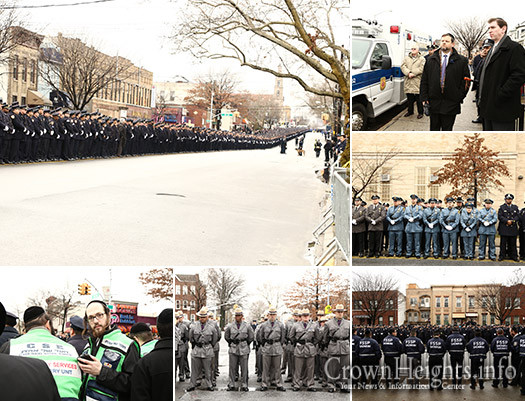 Photos by Ah Blick
The light drizzle falling from overcast skies were like heavenly tears as thousands lined 65th Street yesterday in Brooklyn to pay their respects to Officer Wenjian Liu, gunned down fifteen days ago as he sat in his patrol car with his partner, Officer Rafael Ramos.
The south side of 65th Street was a sea of blue, dotted with various other uniforms, as members of law enforcement from all over the United States stood in neat rows to honor their fallen comrade.  Across the street, New Yorkers of various ethnicities stood shoulder to shoulder in tribute to Officer Liu, including hundreds from the city's Jewish community and representatives of Hatzolah, Shomrim patrols from several communities, Misaskim and several others.
"The Jewish community needs to show support to the NYPD and that is why all the Jewish organizations are out today," Chezky Tabak of Misaskim told VIN News.
Misaskim arranged three separate coffee and restroom stations, each one stocked with hot water, coffee, sugar, milk, cookies and other supplies.
"Everyone does what they can," noted Tabak.
Showing support to the NYPD was a high priority for everyone in attendance.
"This is a somber and sad occasion," said Rabbi Yeruchim Silber of the Borough Park Jewish Community Council.  "This funeral is being held practically in our own backyard and we are here to support the police.
The commanders that work in our precinct can tell you that they really feel the community support, more so than in other precincts.  The police are always here for us and the least we could do is spend an hour or two in the cold and drizzle and show our respects to the NYPD."
The existence special bond between the NYPD and the Jewish community was also acknowledged by Mutty Katz of Borough Park Shomrim.
"It is a sad day to see one of our family members buried," said Katz. "We are here to support the NYPD and the whole department, especially the 66 precinct."
"The citizens of our city are eternally grateful for the sacrifice these police officers made on our behalf," added Chaskel Bennet, co-founder of the Flatbush Jewish Community Coalition, who wore a blue ribbon pinned to his coat in support of the NYPD. "Our community recognizes the fact that the members of the NYPD go to great lengths to protect us and are always there when we need them, so in their time of terrible pain, it is only right that we come out and stand with them."
Crowds lined 65th Street from the Aievoli Funeral Home between 12th and 13th Avenues and continued until 18th Avenue where a large American flag was draped between two ladder trucks.  Several large video screens were set up to broadcast the funeral services to the assembled crowd.
"This is very emotional not just for Brooklynites but for all residents of New York City and for people all across America," said Councilman Chaim Deutsch. "Officer Liu was a hero not for the way he died, but the way he lived his life."
Trooper Bill Cameron was one of a contingent of about 50 police officers from Boston who came in for today's funeral.
"We want to show our support to the NYPD, to the community and Officer Liu," noted Cameron.
Officer Arvar Elkins of Huntington Beach, California took advantage of a Jet Blue offer to fly police officers to the funeral at no charge.
"We all do the same job," said Elkins.  "It is sad what happened and we just try to come here and support as best as we can."
Sergeant Eddie Rodriguez of the Hialeah Police Department in Florida observed that no matter where they may work, police officers share a common bond.
"It is a brotherhood and sisterhood," explained Rodriguez.  "Our families support us but no one really has an opportunity to walk in our shoes except police officers, the people that we work with, who see what we have to deal with.  This is really a brotherhood and a fraternity that we cherish."
Yet today, many felt a strong allegiance to the NYPD, even those who live outside the city.
"This is a very solemn day for the Jewish community and I told my wife this is where I need to be today," said Victor Zilber of New Jersey.  "When we lose a member of the police, it is like we lost someone in our family."
Several in the crowd came with small children, hoping to show their children the importance of appreciating the NYPD and all that it does.  Yossi Endzweig of Borough Park brought his four young daughters, each of whom had a sheriff's badge pinned to her coat.
"They got those badges from a police officer and we wanted to show respect," said Endzweig.
For another Borough Park woman, it was thoughts of her parents, Holocaust survivors, that brought her to 65th Street.
"We grew up hearing stories about how they had to run away from communists and my mother was petrified of her own shadow until she got used to being in the United States," said Tzirel Kohl. "If she saw a policeman she froze.  But over the years I saw her attitude change and my parents loved the United States and began trusting the police.  It says in the Gemara that if there is no respect, then a man will eat another man, there will be chaos, and this is what we are starting to see.  We are here today to show our support so that man will never eat man."
Resentment still simmered about the protests that followed the Eric Gardner verdict and the ensuing unrest that plagued the city, shutting down highways and bridges.
"There is no question that a lot of the rhetoric that went on over the last few months played a part here," said Assemblyman Dov Hikind.  "People have a right to protest and people have a right to their point of view but they do not have a right to cross the line to indulge in speech that will lead to violence and there is no question in my mind that a lot of that speech by too many resulted in some person taking action and destroying two families."
Hikind declined an official invitation to the official funeral service, preferring instead to show his support on the street with his constituents.
"I am very proud to stand here with people from my community and so many from all over and say today that we are absolutely one with the NYPD."
Many officers in attendance turned their backs when Mayor de Blasio spoke at the funeral, despite a request from the NYPD not to publicly disrespect the mayor, with one Borough Parker who asked to be named only as Meshulem saying that he too gave de Blasio a cold shoulder.
"I was also very proud to turn around when de Blasio spoke, together with the police.  Normally I would be sitting in shul and learning but I thought it was important to be here. We have to support the ones that protect us all the time."
But not everyone was of like mind.
"It was inappropriate," said Hersch Glanzer.  "The police commissioner said to please behave and I say if you are working for the police department you have to listen to the police department."
Glanzer also insisted on taking a moment to express his appreciation to the NYPD.
:It is wonderful to see so many people coming out like this," said Glanzer. "We can't live without police officers."
Danny Dayan from Queens noted that he came to Brooklyn today to show that despite the occasional disagreements with law enforcement, their services are crucial.
"We have to pay our respects to the officers that protect us every day," said Dayan. "They are here for us even when we don't want them or feel like they are unfairly ticketing us but at the end of the day, they are the ones we call when there is a problem."
Asked how long he thought the city would remain in mourning, Aryeh Feller, an NYPD clergy liaison hesitated for a brief moment.
"I think it's going to take a while until everyone gets over this," said Feller. "This is a real tragedy."
Photos by AH Blick