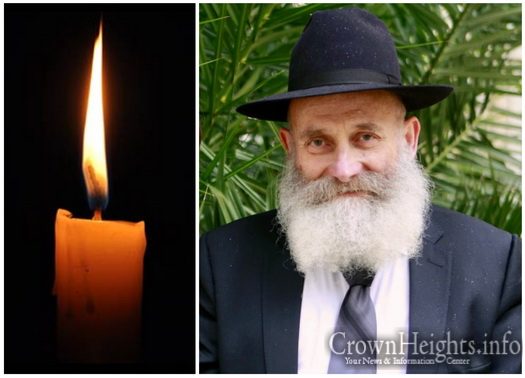 With great sadness we report the passing of Rabbi Chaim Elozor Garelik OBM, an elder chossid, Shliach, and member of anash of Australia. He passed away on Sunday, the 21st of Iyar, 5781.
He was 74 years old.
Chaim Elozor Gorelik ('Lozik') was born in 1946, the youngest of 3 brothers who shared an incredible bond throughout their lives. His family were living in the border town of Lvov from where his father, Rabbi Menachem Mendel Gorelik a"h, helped Chassidim escape the USSR. When his father was arrested for this work and sentenced to 8 years in the gulags, his mother Baila took her 3 young sons and moved to Uzbekistan, where she raised them until her husband was released in 1954. Their home was permeated with Rebbe, Chassidus, Ahavas Yisroel and Mesiras Nefesh.
In 1971, at the Rebbe's request, Rabbi Gorelik undertook the delicate task of rebuilding the matzeva of the Rebbe's father, Horav Levi Yitzchok ZTz"L, in Alma Alta, Kazakhstan. The task required immense courage and ingenuity, as well as a sensitivity to the Rebbe's will. It also carried the real risk of having his long awaited exit visa from the USSR rescinded, if it was discovered that he'd engaged in such work. But, in his own words "…..the Rebbe himself had made the request, so I was willing to risk my freedom." The results are the matzeva which brought the Rebbe much satisfaction and is there until today.
Immediately following the successful completion of this shlichus of the Rebbe, he and his parents left the USSR for Israel. While his parents stayed in Israel where their other 2 sons had settled, he moved on to New York.
In 1972 he got married to Reizl (nee Gurewicz) and at the Rebbe's behest he worked for FREE (Friends of Refugees of Eastern Europe) in NY, helping to look after the needs of recent immigrants from the USSR.
In 1980, with the Rebbe's strong encouragement, he and his wife moved to Melbourne, Australia on shlichus and established FREE there for the many Russian immigrants.
He threw himself in to his holy task and over the following four decades he facilitated for thousands of people to have a Bris, receive Jewish names and have a Pidyon Haben. He enabled hundreds of people to celebrate their bar and bas mitzvos and visited and cared for innumerable hospital patients.
He helped find proper housing and employment, set up assisted living arrangements for elderly people, led communal Shabbos and Yom Tov meals, officiated wedding ceremonies, organised education for children and adults, provided people with counselling, established a library in the Shule, distributed the TOPA CBET Jewish Russian newsletter throughout Melbourne and Sydney, and in order for students to avoid classes on Shabbos, he established a registered Language school for those who wished to take Russian as a high school subject.
His Chabad House grew to encompass and service second and third generations.
His monumental impact on Russian Jewry has been deep and profound. The sheer number of people whose lives have been dramatically and positively influenced by Rabbi Gorelik is astounding.
All of this was done with his characteristic humour, his famous smile and intense kindness – and of course a complete and exemplary dedication to the Rebbe.
He is survived by his wife Mrs. Reizl Gorelik, and children; Mrs. Rivka Sufrin (Melbourne), Rabbi Yerachmiel Gorelik (Colorado), Rabbi Dovi Gorelik (Los Angeles, CA), Mrs. Ester Potash (London, UK), Mrs. Chana Mishulovin (Melbourne, Australia), Mrs. Devora Lew (London, UK), Rabbi Sholom Gorelik (Melbourne, Australia), and Mina Gorelik (Melbourne, Australia).
He was the brother of the late Rabbi Sholem Ber Gorelik a"h – Shliach in Nachlas Har Chabad, and Rabbi Mordechai (Motik) Gorelik (Nachlas Har Chabad, Israel).
Email nichum aveilim to goreliknichumim@gmail.com
Boruch Dayan Hoemes