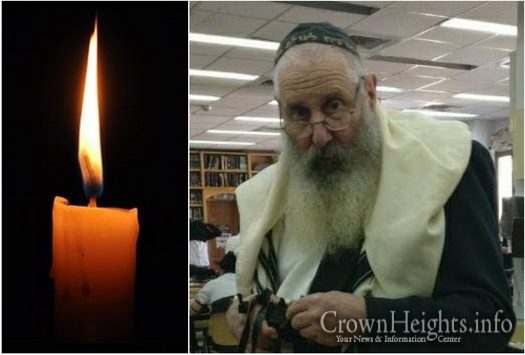 With great sadness we report the passing of Yaakov Yisroel Chairsky OBM, a longtime chassid and tomim of the Rebbe and regular member of the Tzemach Tzedek Synagogue and Kolel in Tsfat Ir HaKodesh. He passed away in Tsfat today, Sunday, the 2nd of Adar, from complications of COVID-19.
The levaya was planned for 1 a.m. Monday in Tsfat.
Chairksy, 74, made is way to Crown Heights in 1995 soon after making his original connection with Chabad to be in the center of things. During his time there, he had the special merit to study under HaRav Sholom Ber Vishedsky, A"H, and farbreng with him personally. There, he also established a close relationship with Chassid Reb Moshe Haber and his family who he would later rejoin in Tsfat.
Due to the tumultous atmosphere of post "Gimmel Tammuz" in Crown Heights, Haber said Chairsky was soon advised to make his way to Eretz Yisroel to continue his learning and hiskashrus with Chabad Chassidus and the Rebbe. He landed in Kfar Chabad where he established a relationship with the well known Baalei Teshuva Torah institution for English speakers, Yeshivas Ohr Timimim and its directors, Rosh Yeshiva Rabbi Schneur Zalman Gafne and principal Rabbi Tuvia Bolton.
It would be in Tsfat soon thereafter where he would be introduced to his wife, Simcha, by Rabbi Eliyahu Kaye and his wife. Chairsky and Simcha had both established regular learning relationships with Kaye at the acclaimed Baalei Teshuva learning institution, Ascent of Safed. After their wedding in Kfar Chabad, the couple settled in Tsfat where the couple lived out their days until Chairsky's passing.
Known for his Chassidic spark and charm, Chairsky spent the last episodes of his life doing what he most loved — learning as a regular member of the Tzemach Tzedek Kolel, never missing a fabrengen opportunity or the chance to give over a quick and meaningful vort. Over the years, he also developed a close relationship with the bochurim and the leadership of Tsfat's Yeshiva Gedola, where he luxuriated in the institution's trademark chayus and simcha.
In his final years, he also was able to further enrich his relationship with Rabbi Gafne who had made a move from Kfar Chabad with his wife within the past decade.
Haber, who made the move to Tsfat with his wife in the past few years and established a chavrusa relationship with Chairsky long after their original relationship in Crown Heights, was speechless with grief other than to say: "He will be sorely missed."
Rabbi Gavriel Marzel, director of the Tzemach Tzedek Synagogue and nearby Chabad House of the Old City of Tsfat said, "the community today suffered a great loss."
Boruch Dayan Hoemes