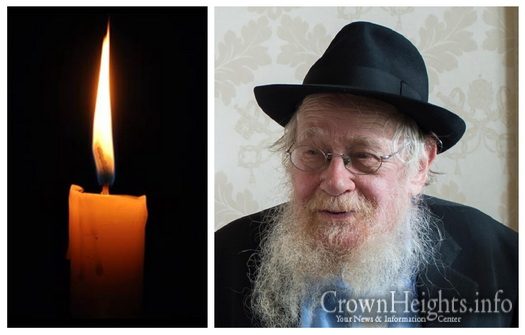 With great sorrow we report the passing of Rabbi Adin Even Yisroel Shteinzaltz OBM, a renowned Talmud Chacham and commentator on the Torah. He passed away on Friday, the 17th of Av, 5780.
He was 83 years old.
Adin Steinsaltz was born in Jerusalem in 1937 to Avraham and Leah (née Krokovitz) Steinsaltz. His father was a great-grandson of the first Slonimer Rebbe, Avrohom Weinberg, and was a student of Hillel Zeitlin.
Steinsaltz became a baal teshuva during his teenage years and learned from rabbi Shmuel Elazar Heilprin (Rosh yeshiva of Yeshivas Toras Emes Chabad). He studied mathematics, physics, and chemistry at the Hebrew University, in addition to rabbinical studies at Yeshivas Tomchei Temimim in Lod and with rabbis Dov Ber Eliezrov and Shmaryahu Noach Sasonkin.
In 1965, he founded the Israel Institute for Talmudic Publications, and began his monumental work on the Talmud, including translation into Hebrew, English, Russian, and various other languages. The Steinsaltz editions of the Talmud include translation from the original Aramaic and a comprehensive commentary. Steinsaltz completed his Hebrew edition of the entire Babylonian Talmud in November 2010.
Steinsaltz's classic work of Kabbalah, The Thirteen Petalled Rose, was first published in 1980, and now appears in eight languages. In all, Steinsaltz has authored some 60 books and hundreds of articles on subjects including Talmud, Jewish mysticism, Jewish philosophy, sociology, historical biography, and philosophy. His memoir-biography on the Rebbe was published by Maggid Books (2014).
Continuing his work as a teacher and spiritual mentor, Steinsaltz established Yeshivat Mekor Chaim alongside rabbis Menachem Froman and Shagar in 1984, and Yeshivat Tekoa in 1999. He has served as scholar in residence at the Woodrow Wilson International Center for Scholars in Washington, D. C., and the Institute for Advanced Study in Princeton. His honorary degrees include doctorates from Yeshiva University, Ben Gurion University of the Negev, Bar Ilan University, Brandeis University, and Florida International University.
Being an ardent follower of the Rebbe, he went to help Jews in the Soviet Union assisting Chabad's shluchim. In 1991, on the Rebbe's advice, he changed his family name from Steinsaltz to Even-Israel.
Steinsaltz and his wife lived in Jerusalem, and has three children and more than ten grandchildren.
The Levaya will take place today, and he will be buried on Har Hazaysim.
Boruch Dayan Hoemes