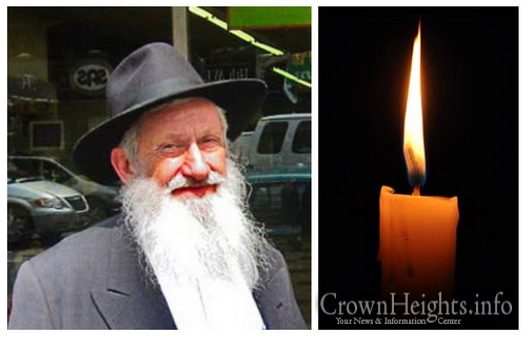 BDE: Avraham Aaron Rubashkin, 92, OBM
With great sadness we report the passing of Rabbi Avraham Aaron Rubashkin OBM, a legendary Chossid who is the patriarch of a large Lubavitch family. He passed away Thursday night, the 9th of Nissan, 5780.
He was 92 years old.
Abraham Aaron Rubashkin was born to Getzel and Rosa Rubashkin in the late 1920's in Nevel, a Russian town where many Jews lived. He was raised by his parents as observant an Jews in spite of the anti-religious repression in the Soviet Union.
When the Germans occupied Nevel in July 1941, the Rubashkin family fled east, eventually reaching the Uzbek city of Samarkand, where he married Rivka Chazanov of the Chein family of Nevel.
After the war, the Rubashkin family left the Soviet Union via Lemberg and spent time in Austria, before they settled in Paris in 1947. In Paris, his father ran a grocery shop and his mother served as a cook at a Jewish girls school where he became a butcher.
In 1953, the family moved to New York City, where he and his partner opened Lieberman & Rubashkin Glatt Kosher Butchers on 14th Avenue in the Borough Park section of Brooklyn.
He is survived by Rivka, and children Rabbi Yossi Rubashkin (Crown Heights), Rabbi Moshe Rubashkin (Crown Heights), Rabbi Sholom Mordechai Rubashkin (Monsey, NY), Rabbi Heshy Rubashkin (Postville, IA), Mrs. Gutol Goldman (Miami Beach, FL), Mrs. Sara Balkany (Boro Park, Brooklyn), Mrs. Rochel Leah Rosenfeld (Tzfas, Israel),  Mrs. Chayala Gourarie (Postville, IA), and Mrs. Chana Zelda Minkowicz (Crown Heights), as well as grandchildren and great-grandchildren.
He is also survived by his siblings, Mrs. Rochel Duchman (Crown Heights), Mr. Gavriel Rubashkin (Crown Heights), and Mrs. Dania Raskin (Crown Heights).
Baruch Dayan Hoemes