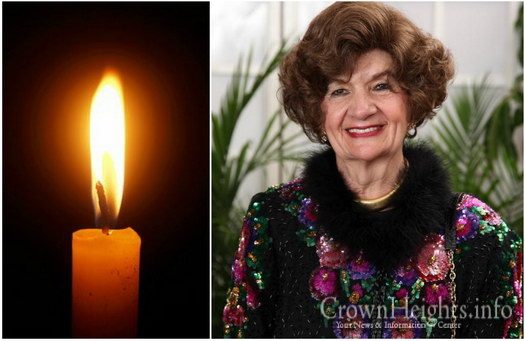 With great sadness we report the passing of Mrs. Gittel Rosenberg OBM, a leading female figure in the Chabad community. She passed away on Friday the 5th of Iyar, 5779.
She was 86 years old.
Mrs. Gitel Rosenberg was born in Montreal in 1932. As a vibrant, dynamic child of immigrants, she grew to be proud of her Yiddishkeit in the face of adversity.
At the young age of sixteen, she was enlisted by Rav Hirschprung zt"l to serve as the founding teacher of Beis Yaakov of Montreal, a post she would hold devotedly for over twenty years. With a warmth for Yiddishkeit, and keen sense of humor, coupled with her love of children, she left an indelible impression on generations of students growing up in the shadow of the Holocaust.
In 1951, Gitel married Yishai Hakohen Rosenberg – a young survivor of Auschwitz, and together they established a model chassidishe, Torahdik home.
At the age of 36, Gitel entered the corporate world, becoming Canada's first Chassidic orthodox Jewish female stockbroker. As an astute businesswoman with a knack for building communal bridges, she trailblazed Jewish outreach activities, bringing the light of Torah to all who crossed her path.
Gitel pioneered the organization for widows and orphans of fallen Israeli soldiers in Montreal, and together with Rebbetzin Golda Schwei, actively participated in the Institute for Brides and Grooms, introducing about-to-be-married Jewish couples to the observance of Taharas Hamishpachah.
Gitel was an active member of N'shei Chabad of Montreal, and Tverya, Eretz Yisroel; her mission inspired her Jewish activism until the end of her life.
In 1988, she emigrated to Eretz Yisrael with her husband and settled in Teverya. While her husband, Yishai a"h devoted himself to Torah study at the kollel of Rabbi Meir Baal Haness, Gitel organized educational and social events to empower Jewish women.
The past 8 years she live in NY to be near her children.
She is survived by her three children, Rabbi Yitzchok Dovid Rosenberg (Montreal, Quebec), Rabbi Avrohom Asher Rosenberg (Monsey, NY), and Mrs. Shaindy Schapiro (Crown Heights).
Levaya will be today, Friday, leaving Shomrei Hadas 3:30pm. The aron will NOT be passing by 770, as it will be flown to Eretz Yisroel Motzoei Shabbos. It will be leaving for burial right after Shabbos at JFK airport 75 North Hangar Rd. Jamaica NY.
Shiva will be at 618 Montgomery Street, times to be announced.
Boruch Dayan Hoemes