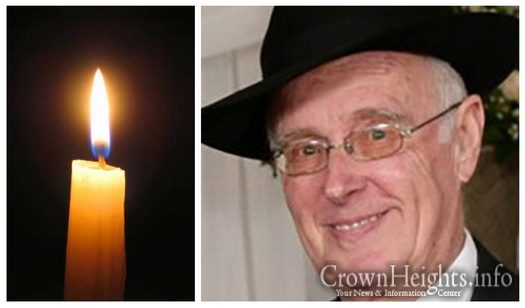 With great sadness we report the passing of Mr Pichos Meyer (Peter) Kalms OBM, of London, England. Mr Kalms was an active member of the Chabad community in London and had a special connection with the Rebbe. He passed away over Shabbos, the first day of Pesach.
He was 89 years old.
He is survived by his wife, Mrs. Esther Kalms, and his daughters Tanya Canvasser, Miriam Fehler (London, England), Penina Efune (Brighton, UK), Chava Epstein (Columbia, SC), and many grandchildren and great grandchildren.
The Levayoh will take place today at 4:00pm (London Time) from 2 Erskine House, Homesfield London NW11 6HN. The Levaya will continue on to Eretz Yisroel for Kevurah.
Shiva will only start after Yom Tov.
Boruch Dayan Hoemes