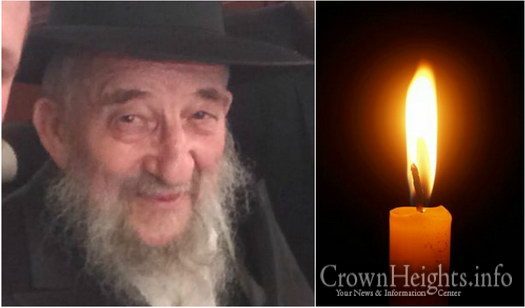 With great sadness we report the passing of Rabbi Yosef Simcha Blizinsky, OBM, one of the elder members of Anash in Crown Heights. He passed away this morning, the 15th of Adar 1 5779. He was 86 years old.
Rabbi Yosef Simcha Blizinsky was born in Poland in the 1930's. When he was a child his family immigrated to Eretz Yisroel where he spent his childhood. As a Bochur he came to Crown Heights to learn.
He subsequently met, and married his wife, Miriam (Kalmanson). After their wedding they moved on Shlichus to Boston where they worked in the Lubavitch schools, teaching and serving the general community. Later, they returned to Crown Heights where he taught as well.
R' Yosef was known as a Shulchan Aruch Yid, meticulous about keeping Halacha. He was always seen with a Sefer in hand and he spent every free moment learning. Until his last days he never deviated from his daily schedule of davening with a minyan and learning in the Kollel.
He is survived by his wife Miriam (nee Kalmanson) Blizinsky (who has not been informed of her husbands passing).
He is survived by his children: Rabbi Mendel Blizinsky (Crown Heights), Mrs Rivkah Carlebach (New Jersey), Mrs. Dina Dubrowsky (Crown Heights), Mrs. Chanie Rosenfeld (Zurich, Switzerland.)
He is also survived by his brother Rabbi Shmuel Blizinsky of Hollywood Florida.
Levaya will take place at Shomrei Hadass in Boro Park, Leaving at 2:00pm and will be passing 770 at 2:40pm.
The family will be sitting shiva at 580 crown street Building A, Unit 709.
Boruch Dayan Hoemes