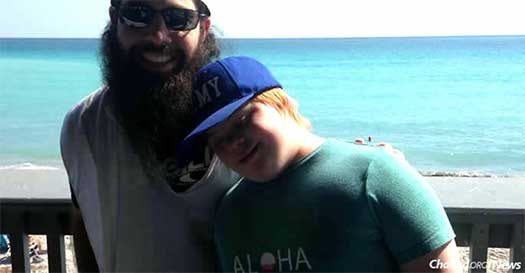 Zalmy Plotkin, 15, brought joy to everyone he met and knew.
by Chabad,org
Zalmy Plotkin, the youngest son of Rabbi Avrohom and Goldie Plotkin, co-directors of Chabad-Lubavitch of Markham in Ontario, Canada, passed away on April 15, two days before his 15th birthday.
Beloved by the many people who knew him for his ready smile and sweet disposition, he was remembered as a loving son, brother and uncle who took part in many activities at his parents' Chabad center, as well as in programs to aid children with disabilities.
"Despite our age gap, Zalmy was my friend," says Jonah Simcha Chaim Muskat-Brown, a friend of the Plotkin family. "He was a friend to so many others, as well."
"For Zalmy," he continues, "life was simchah [joy]. He appreciated the simple things in life, such as laughing at himself in the mirror or sitting at a computer [or my phone] and watching Camp HASC [a camp for kids with disabilities] videos on repeat. He loved music. He loved to dance. And he made it his personal shlichus [mission] to ensure that everyone he encountered was in a joyful state.
"If he noticed that you were unhappy about something, he'd come over and put his arm around you and make a fuss until you cracked a smile. He joyfully greeted everyone he met, wherever he met them. He'd eagerly say, 'Good Shabbos!' to everyone he passed as he roamed the aisles of his parents' shul, and regularly visited seniors residences to entertain them with his piano playing of 'The Itsy-Bitsy Spider' or spin the dreidel with them on Chanukah."
"But perhaps above all," Muskat-Brown concludes, "Zalmy was one of the world's greatest teachers. He taught us how to appreciate the little things we have and how to smile when we felt we had nothing to smile about. He taught us to speak with manners and to always clean up the table after we finished eating. And he taught us to view life and the people around us as beautiful creations worthy of our concern and care."
Zalmy Plotkin is survived by his parents, siblings, grandparents, and nieces and nephews.