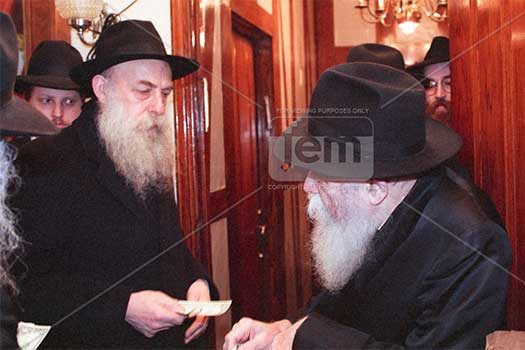 With sadness we inform you of the passing of R' Elozor Kalman Tiefenbrun OBM, a talented artist who's iconic paintings of the Rebbe grace the walls of many households, and who merited to special kiruvim from the Rebbe.
In a diary composed by his son R' Elimelech he related that his father had yechidus on Yud-Tes Kislev 5732. The Rebbe told him, "You should have success with the pictures since you have the ability to express Judaism in a painting."
And in another yechidus he had along with his daughter Ronya the Rebbe said, "Your success should be such that it is good for you and good for those who receive the pictures."
Once while distributing Kos shel Bracha on Motzaei Simchas Torah 5739, the Rebbe gave a bottle of mashke to my father and said (in English), "Mix it into your paints."
He is survived by his wife Mrs. A Tiefenbrun and their children, Rabbi Aharon Tiefenbrun, (London, England) Rabbi Elimelech Tiefenbrun (Crown Heights), Rabbi Naftoli Tiefenbrun (London, England) and Mrs. Ronya Fajnland (Long Beach, CA).
Levaya information will be posted when it is announced.
Boruch Dayan Hoemes