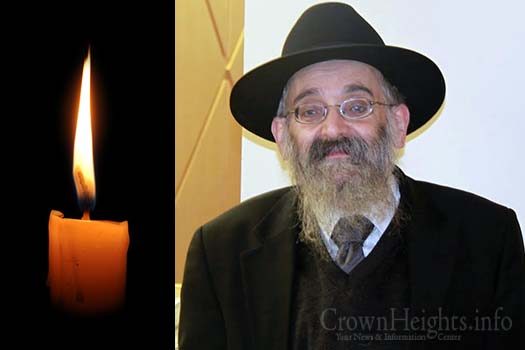 Boruch Dayan Hoemes: Yosef Yitzchok Hakohen (J.P.) Perlow, 66, OBM
With great sadness we inform you of the tragic and sudden passing of Dr. Yosef Yitzchok Hakohen Perlow OBM, a longtime resident of Crown Heights, on 24 Menachem Av. He was 66 years old.
Yosef grew up in Melbourne, Australia and later lived in Crown Heights for many years.
He was a grandson of the famed Chassidim and Rabbonim Rabbi Chaim Mordechai Hakohen Perlow Z"l and Rabbi Betzalel Wilshansky Z"l.
Yosef was an exceptional Yiras Shomayim, genius, exceedingly modest and humble, and a tremendous Bal Tzedakah. He Davened at Reinetz shul on Troy Avenue. Yosef would learn Torah for hours each day.
He is survived my his mother Mrs. Aidele Perlow (wife of R' Dovid Hakohen Perlow Z"l) of Melbourne, Australia and siblings Rabbi Zalmen Perlow, Crown Heights, Mrs. Razel Baras, Crown Heights , Rabbi Avraham Perlow (Mora Dasra of Tzemech Tzedek) Sydney, Australia, Mrs. Rochel Abelesz London, England, and Mrs. Miriom Gopin, Crown Heights. As well as nephews and nieces around the world.
The Levaya will take place Thursday, Leaving Shomrei Hadas at 10:00am and passing 770 at 10:45am prompt. Kevura at Old Montefiore Beis Hachayim.
Baruch Dayan Hoemes