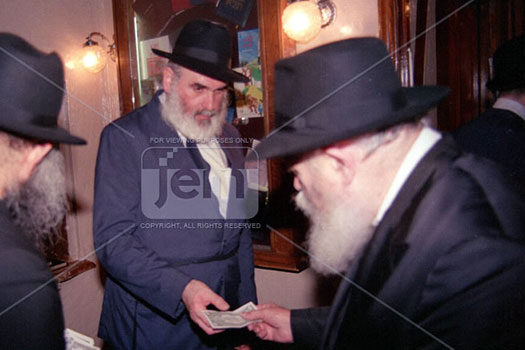 With sadness we inform you of the passing of Rabbi Yehuda Leib Dubov OBM, a longtime resident of Crown Heights whom the Rebbe would dispatching to far flung locations to perform Brissim. He was 91 years old.
He was the son of Reb Itche Dubov, the noted Rov of Manchester, England, who was known for being the first to accept the Rebbes Nesius. His famous saying "Chevre, mir hoben ah Rebbe" [people, we have A Rebbe] after he received three answers from the Rebbe without him verbalizing the questions.
He noted as a Mohel, who the Rebbe often dispatched to far flung locations to serve as a Mohel. Once by a Farbrengen in 1976 the Rebbe signaled Reb Leibel and gave him Mezonos and instructed him to go make a Bris for the grandchild of Reb Yisroel Aryeh Leib, the Rebbe's brother. The Rebbe also personally paid the expenses of the trip.
He is survived by his wife Chava and their children, Rabbi Kalman dubov (S. Antonio TX), Rabbi Yossi Dubov (Morristown, NJ), Zlatie Ehrenstein (Tzfas Israel), Chaya Cherna Blau (Tzfas, Israel), Rabbi Mendy Dubov (Ramat Beit Shemesh, Israel), Rabbi Ari Dubov (Brooklyn, NY), Rabbi Sholom Ber Dubov (Orlando, FL), Rochel Ben Ezra (Kfar Chasidim, Israel), Rabbi Dovid Dubov (Princeton, NJ), Rabbi Sender Dubov (Crown Heights), Rabbi Nissan Dubov (Crown Heights), Ms Chanie Dubov (Crown Heights), and Rabbi Zalman Dubov (Crown Heights).
The Levaya will take place Monday, 9:00am at Shomrei Hadas and passing by 770 at around 9:45am.
Boruch Dayan Hoemes