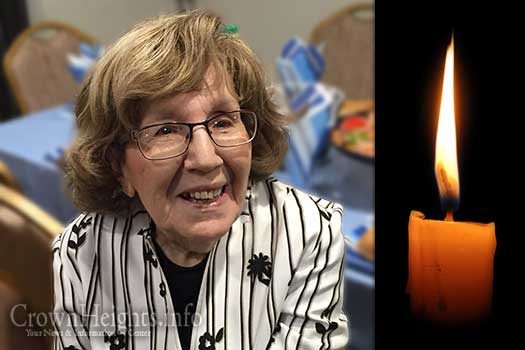 With great sadness we inform you of the passing of Mrs. Sarah Nechama Yarmush OBM, the matriarch of a large Chabad family, many of them Shluchim of the Rebbe, passed away on Thursday, 15 Teves, 5777. She was 91 years old.
Born in America in the 1920's to Rabbi Shmuel Mordechai and Chaya Esther Schweitzman (originally from Poland), who raised their children with Mesirus Nefesh, remaining steadfast in keeping Torah and Mitzvos at a time when assimilation was rampant.
These ideals, instilled from her youth, were the foundation of her home which she established together with her husband HaRav Dovid Aryeh Hakohen Yarmush OBM.
Mrs. Yarmush was mekushar to the Rebbe all her life, and inspired her children to do the same. She corresponded frequently with the Rebbe, receiving numerous encouraging letters and responses. Mrs. Yarmush's staunch belief that everything Hashem does is b'Chesed and b'Rachamim was imparted to her family.
She is survived by her children, Yitzchok Yarmush (Montreal, Canada), Bracha Farro (Israel), Yosef Yarmush (Toronto, Canada), Eliezer Yarmush (Crown Heights), Yehoshua Yarmush (Dollard, Montreal), Yisroel Yarmush (Crown Heights), Shaindy Gutnick (Crown Heights), Betzalel Yarmush (Lakewood, NJ), Chanie Simpson (Crown Heights), Fraidy Werner (Boro Park, Brooklyn), Avrumie Yarmush (Lakewood, NJ), Miriam Vaisfiche (Long Island, NY), and Rivky Lew (London, UK), as well as many grandchildren and great-grandchildren.
The Levaya took place on Friday.
The family is sitting Shiva at 827-829 Montgomery St. Shachris: 7:00am, 7:45am and 8:30am Mincha: bzman Maariv: bzman
Boruch Dayan Hoemes